---
Having the right drywall tools can make all the difference for any drywall project. From screw guns and hole saws to sanders and banjos, there are a variety of tools that any drywaller should have on hand when it comes to drywall installation.
Knowing which tools work best for different jobs is essential to get your project done quickly and efficiently. Let's review some of the best drywall tools available – designed to help you get professional results every time.
Drywall Hanging Tools
Drill for Drywall
One of the handiest tools for drywall installation is a screw gun. A screw gun is a powerful motorized screwdriver designed to quickly drive screws into drywall or other materials.
The screw gun is essential for attaching drywall to studs and joists for drywall installation. The most commonly used screw guns are usually cordless; they are easy to maneuver and operate.
When selecting a screw gun for drywall installation, look for one that is durable and has adjustable torque settings. The DeWalt screw gun is a popular choice among professional drywall installers.
A screw gun is a must-have tool for any drywall installation project. With the right screw gun, you can quickly and efficiently secure drywall to any surface. Whether you opt for a cordless or corded screw gun, investing in a quality screw gun will make your drywall installation much more manageable.
Milwaukee 2866-20 M18 FUEL Drywall Screw Gun – $130
SUPERIOR RUNTIME – The M18 FUEL™ Screw Gun delivers 3x longer run time than traditional corded screw guns.
AUTO START MODE – The tool trigger can stay locked on without the motor running, so you don't have to keep your hand on the trigger the whole time. Once the screw contacts the drywall, the motor automatically starts, creating less noise between screws and a 3x longer run time.
QUICK RELEASE MAGAZINE – The Milwaukee® REDLITHIUM™ XC5.0 battery pack delivers 64 sheets per charge, so you can get the job done without having to stop for a recharge.
POWERSTATE™ BRUSHLESS MOTOR – Delivers 4,500 RPM's to provide faster than corded productivity.
---
DEWALT 20V MAX XR Drywall Screw Gun – $160
DRYWALL SCREW GUN – With a brushless motor and up to 4,400 RPM, this drywall screw gun is perfect for any project. The nosecone locks on snugly and is easily removable, while the collated magazine attachment illuminates dark work areas.
BE MORE PRODUCTIVE – The DEWALT 20V MAX* XR Drywall Screw Gun has more speed than the DW272 corded screwgun, making it easier to get the job done. With a built-in brushless motor, this tool is made for efficient performance and runtime.
KEEP YOUR SCREWS CONSISTENTLY DEEP – The nosecone of the drywall gun locks and maintains a consistent screw depth. This ensures that every screw is driven at the same depth for a professional finish.
---
Best Drywall T Square
When looking for the best drywall t-square, there are a few essential items to consider. The first is size. Generally, drywallers use a 4-foot t-square. The 4-foot t-square is often preferred because it provides more coverage when measuring drywall sheets.
Another vital feature to look for is accuracy. Many drywall t-squares on the market promise accuracy but don't deliver. Johnson T Squares are well known for their accuracy and have been used by drywallers worldwide for decades.
Finally, drywall t-squares should be made of durable materials. Johnson drywall T Squares are constructed with high-grade aluminum alloy for extra strength and durability.
Johnson Level & Tool Heavy Duty Professional Aluminum Drywall T-Square – $38
HEAVY DUTY CONSTRUCTION – This professional T-square is made from high-quality materials and is built to last. The unique rivet assembly permanently bonds the head and blade, ensuring it stays square for the product's life.
EASY-TO-READ GRADUATIONS – The large, black 1/8″ graduations on this layout and marking tool are easy to read and make precision measures a breeze.
MATCHES DRYWALL HEIGHT – The 54″ length of this construction square matches the height of most drywall panels, making it a great fit for your next installation project.
PRECISION ACCURACY – Eliminate mistakes and guessing with this highly accurate T-square ruler. It's a must-have tool for any drywall hanger.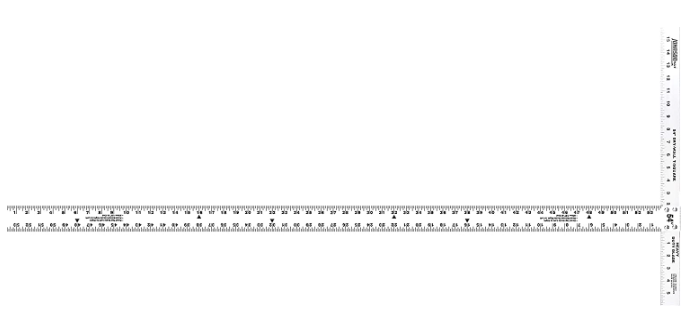 ---
Kapro Adjustable Drywall T-Square – $35
KAPRO 317 ADJUSTABLE DRYWALL T-SQUARE TOOL – The sliding head moves to any angle, and the locking groove creates 90 degrees. The Kapro 317 also features a screw lock that keeps the head in position. Precision machined from aluminum with an anodized finish; this tool is built to last.
ABS END CAPS WITH A HANDS-FREE HOLDING L ledge provides additional balance when placed on the edge of a surface.
MULTI-USE – Multiple applications, including technical drafting, drywall, interior design, and home improvement projects.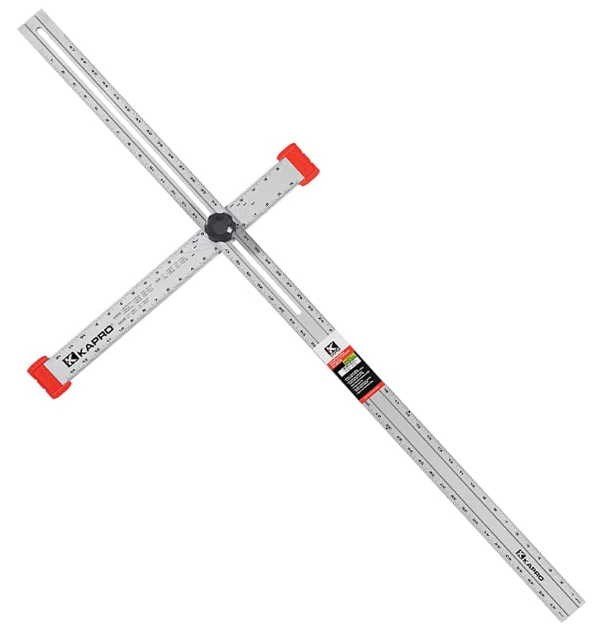 ---
Drywall Utility Knife
A drywall utility knife is an essential tool for cutting drywall. It can also be referred to as a drywall cutter or score and snap knife.
This type of knife is designed specifically for cutting through drywall, making it easier and more efficient than other cutting tools, such as a handheld saw.
The blade on a drywall utility knife is sharper than other cutting blades, and its serrated edge helps to create a clean cut. The knife handle usually has an ergonomic shape for better maneuverability, and some models have a locking mechanism for extra safety.
Stanley 6 in Classic 99 Retractable Utility Knife – $12
STANLEY QUALITY – You know the name, you know the quality. This utility knife is no exception and comes with a lifetime warranty.
3 POSITION BLADE – The blade is retractable for easy, safe use. It can also be locked into place for more strenuous tasks.
INTERLOCKING NOSE – Keeps the blade in place and eliminates the need for tape or other methods to keep the blade in place.
LIFETIME WARRANTY – Stanley stands by their products 100%. If there's ever an issue, they'll take care of it.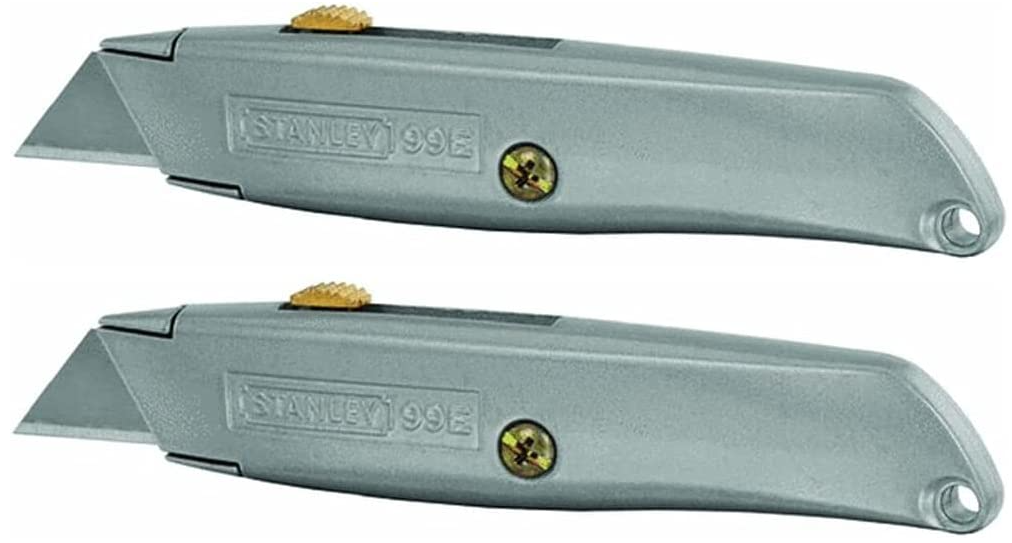 Anvil Soft Grip Drywall Utility Knife – $6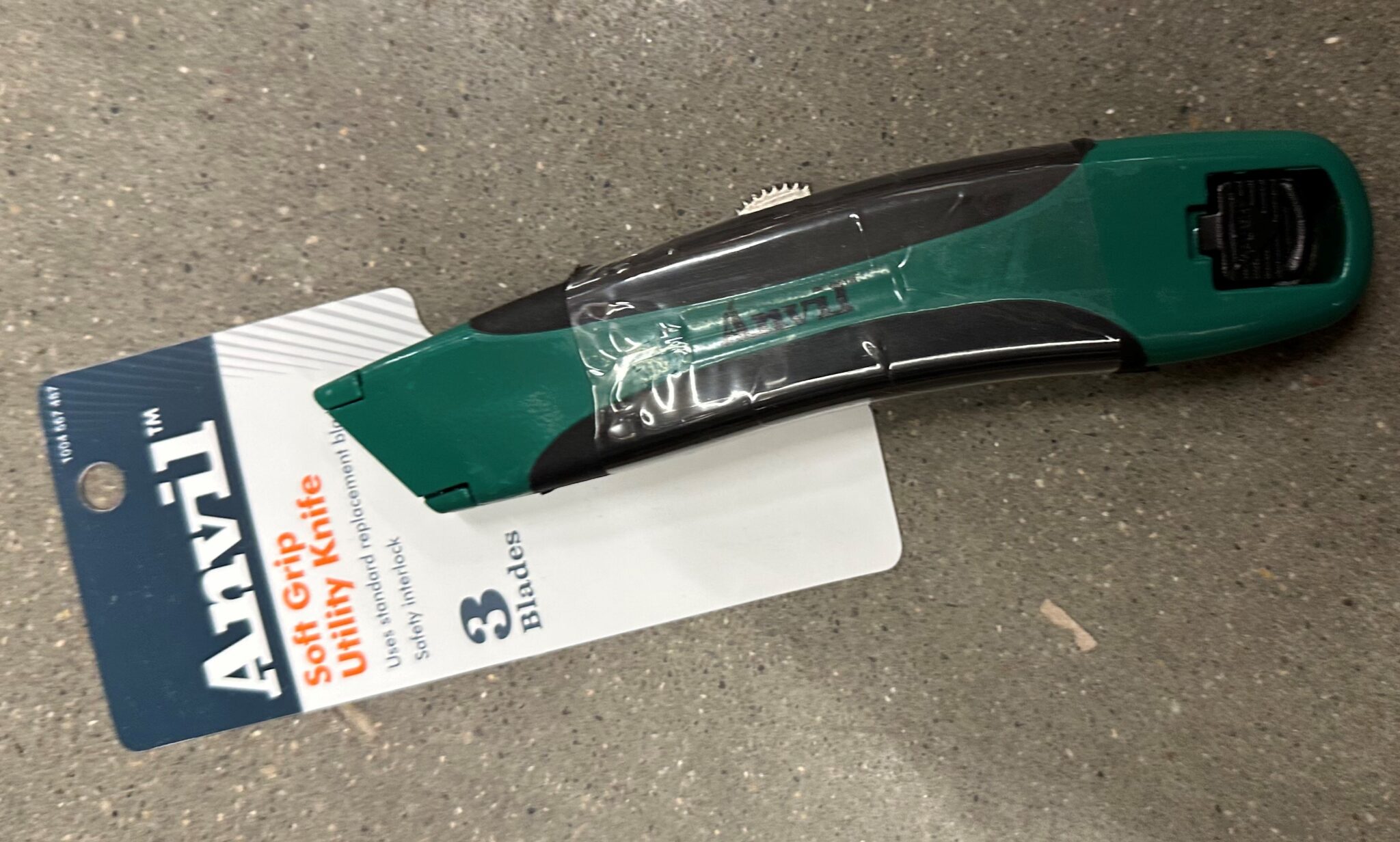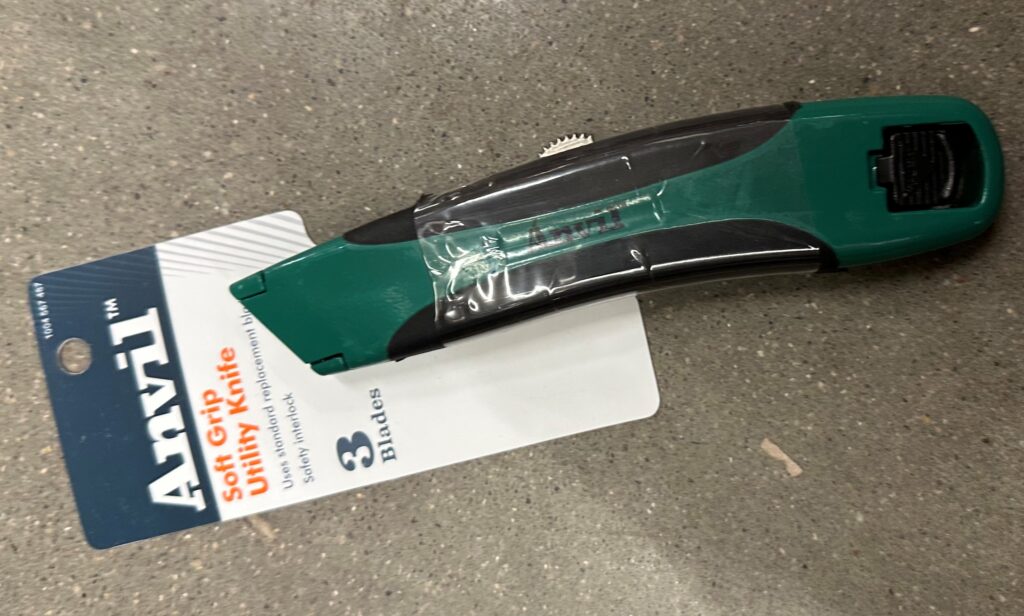 ---
Rasp for Drywall
A drywall rasp is a specialized drywall tool used to shape drywall. It's also known as a drywall file, grinder, or shaver.
The rasp has two parts: a handle and the actual rasping surface. The rasping surface may be either steel or carbide and is used to smooth drywall edges.
TAJIMA Drywall Rasp – 7-inch Combination Sheetrock Tool – $28
DRYWALL RASP – The Tajima 7-inch Combination Sheetrock Tool is perfect for any drywall project. It can handle any job quickly and easily with three unique grinding sections.
DUST COLLECTION – This tool's in-handle dust collection feature keeps your work area clean and safe. No more worrying about breathing in harmful dust particles.
VERSATILE – This Tajima Drywall Rasp can do it all! With its aggressive teeth for quickly removing material, fine teeth for lighter detail work or corners, and side rail teeth for notching, it's the perfect all-in-one tool.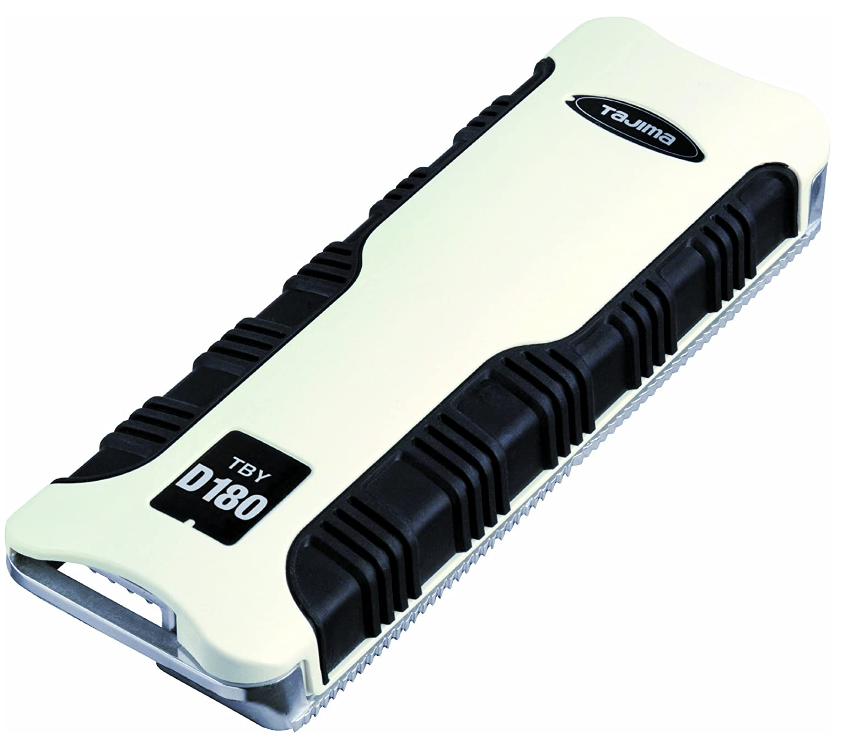 ---
Drywall Router
A Drywall Router is a tool designed for cutting and installing drywall. This handy device makes it easy to cut through multiple layers of drywall in one pass and keep the edges cleanly finished.
It also offers precise control over the depth of the cuts, allowing you to create perfect corners and custom shapes. When used correctly, this tool can save you time and effort during drywall hanging or installation projects.
DEWALT Rotary Router Saw – $62
SLIM AND ERGONOMIC DESIGN – To reduce fatigue over prolonged use, the body of this DEWALT rotary tool is slim and ergonomic.
TOOL-FREE BIT CHANGE – For fast and easy bit changing without a wrench, the DEWALT rotary router saw has a tool-free bit change.
5.0 AMP, 30,000 RPM MOTOR – Provides more power to get the job done swiftly.
JAM-PROOF SWITCH – Dust-Sealed Switch protects against dust ingestion for longer switch life.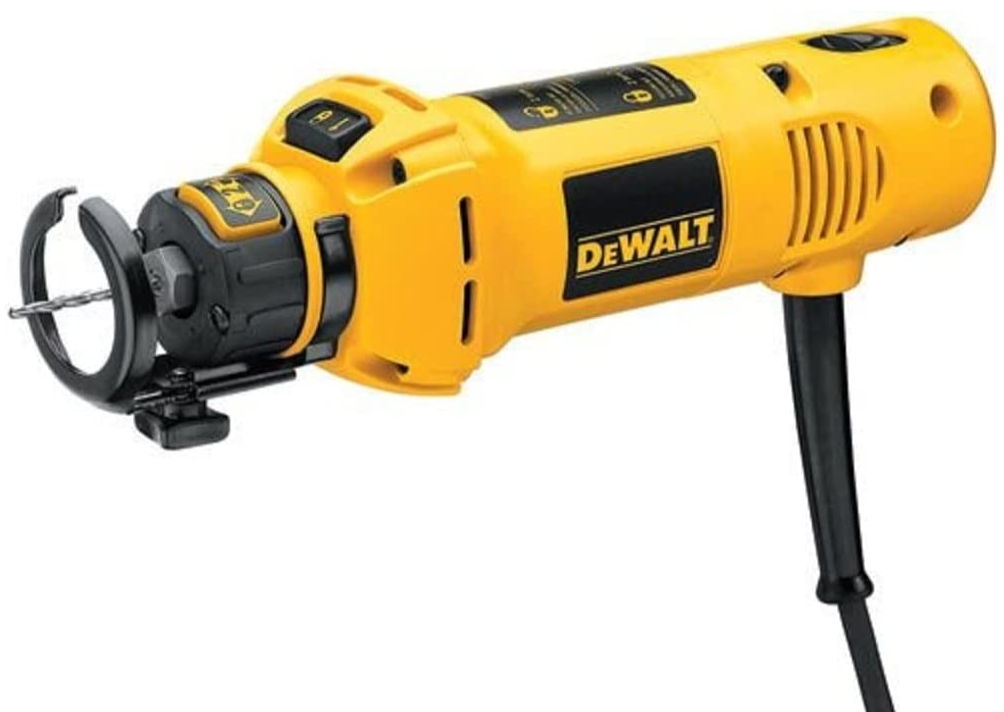 ---
Drywall Router Bits
Drywall Router Bits are the ideal tool for making precise cuts in drywall. They provide quick and clean cut-outs for any drywall installation job.
Rotozip Bits
Rotozip Bits are crafted with precision and durability, making them a go-to option for all types of drywall projects. Constructed to be strong and long-lasting, they can easily cut through drywall with ease.
10-Pack Roto-Zip X-Bits for Drywall Routers and Roto Tools – $60
MAKE FASTER CUTS – With the Roto-Zip X-Bits, you can make fast, precise cuts from outlets and door openings in drywall. These 5/32″ guide-point bits are made of high-speed steel and last up to 5x longer than standard bits.
ACCESSORIZE YOUR ROTO TOOL – The X-Bits kit includes a replacement collet kit with three collets that fit 1/8 ", 5/32″, and 1/4" router bits. It also comes with a replacement nut to accommodate many sizes of router bits.
QUALITY YOU CAN COUNT ON – Roto-Zip is the choice of professional drywallers for quality, durability, and reliability. When it comes to your projects, don't settle for anything less.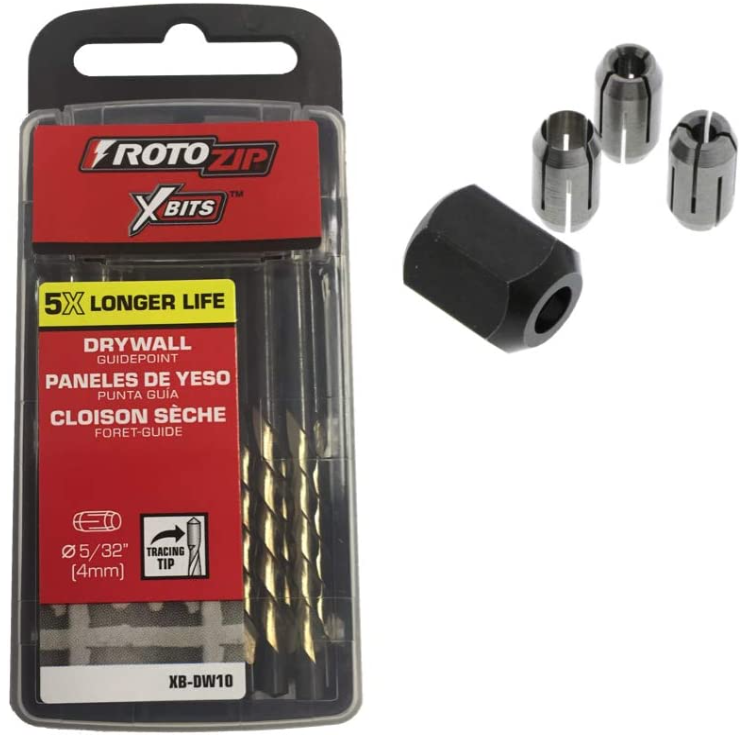 ---
Drywall Hammer
A drywall hammer, also known as a hatchet, is an essential tool for drywalling projects. It is designed to make drywall installation and repair easier, faster, and more precise.
When you don't have a jab saw, sometimes a drywall hammer will do the job.
Typically made of steel with a wooden handle, drywall hammers are available in various sizes from home improvement stores like Home Depot.
Solidtools Drywall Hammer – $20
DROP FORGED STEEL – Our drywall hammers are made of the best quality steel for a lifetime of heavy use.
MILLED STRIKING FACE – The striking face is precision milled to ensure a clean, even surface for driving nails flush with the board.
UNBREAKABLE FIBERGLASS HANDLE – The fiberglass handle is unbreakable and will not bend or break, even under the heaviest loads.
DURABLE & LONG LASTING – Our drywall hammers are guaranteed to last through years of rugged daily use.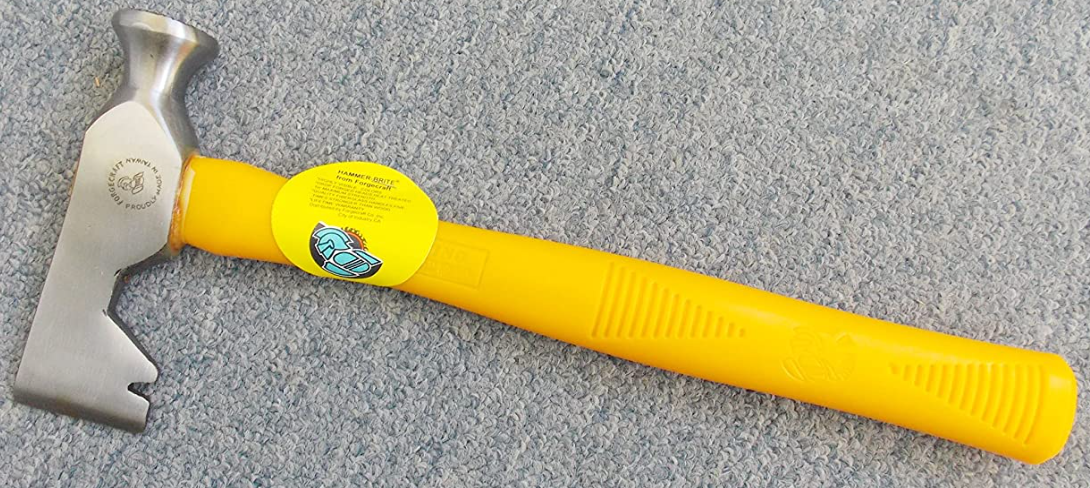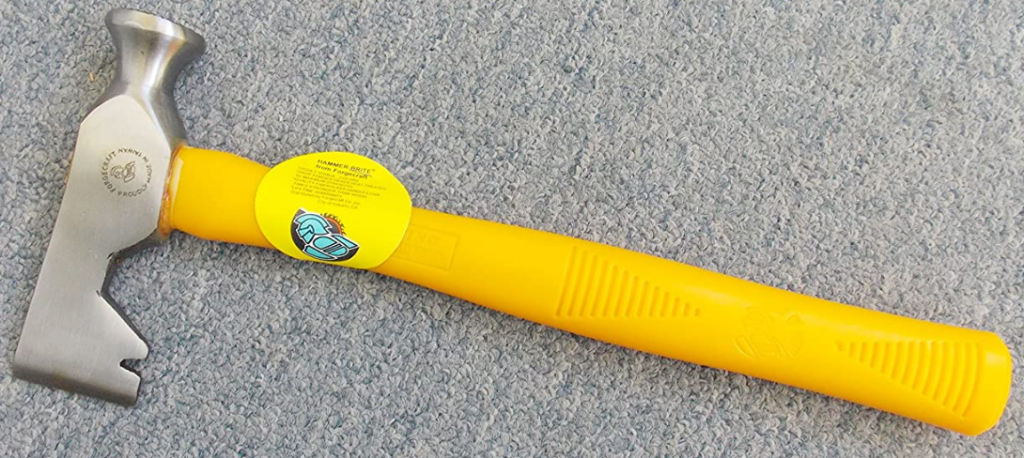 ---
Drywall Repair Tools
When it comes to drywall repair, having the right tools can make all the difference.
Whether you're patching a hole in drywall or doing an entire drywall replacement, having access to the best drywall repair tools is essential for a successful job.
---
Drywall Taping Tools
Drywall Banjo
Drywall banjos are a versatile tool for applying fire tape with drywall mud or joint compound. They allow for an even and consistent application of these materials, leading to a smoother and better-finished product.
With a drywall banjo, you can quickly and easily complete drywall projects in less time than if done by hand.
The drywall banjo is an excellent investment for professionals and DIYers alike and can help you get the job done quick and efficient. It's an invaluable tool for any drywall project.
Goldblatt G15301 Banjo-Dry Tape – $122
DUST-FREE DRYWALL TAPING – Say goodbye to the mess and hassle of traditional taping with Goldblatt's Banjo-Dry. This lightweight aluminum tool easily holds up to 500 ft. of linear drywall tape, while the mud control adjustment knob ensures a smooth, even application every time.
EASY TO USE – The Banjo-Dry is adjustable to fit any user and comes with a cutting blade end that makes it easy to cut tape quickly and easily. Plus, the ergonomic design makes it comfortable to hold for extended periods.
RUGGED AND LIGHTWEIGHT – The Banjo-Dry is made of heavy-duty aluminum that's tough enough to withstand even the most challenging projects but lightweight enough for easy transport and maneuverability.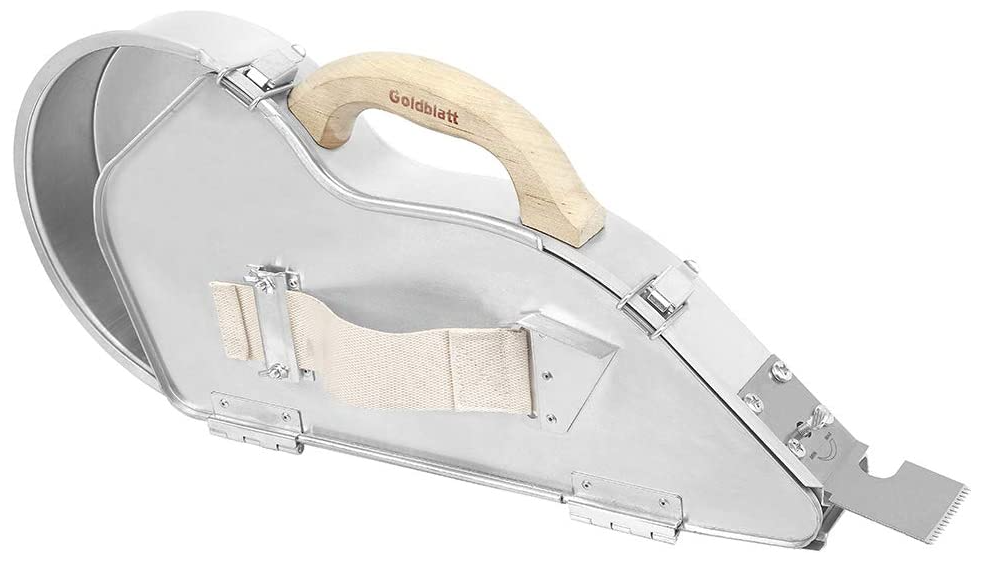 ---
Platinum Drywall Tools Flat Box Set – $750
WANT TO FINISH DRYWALL JOINTS QUICKLY? – The Platinum Drywall Tools Flat Box Set is perfect for the job. These tools are built to last with all stainless steel and anodized aluminum parts. The included 10″, and 12″ flat boxes will help you apply two coats of compound quickly and easily.
REACH HIGH CEILINGS EASILY – The 42″ flat box handle allows you to reach 9-foot ceilings with ease. You'll be able to finish drywall joints quickly and easily with this premium-quality full set tool kit.
AUTOMATIC TAPING AND DRYWALL FINISHING TOOLS – The Platinum brand offers some of the best drywall finishing and automatic taping tools on the market. If you're looking for a top-of-the-line set, look no further than Platinum Drywall Tools.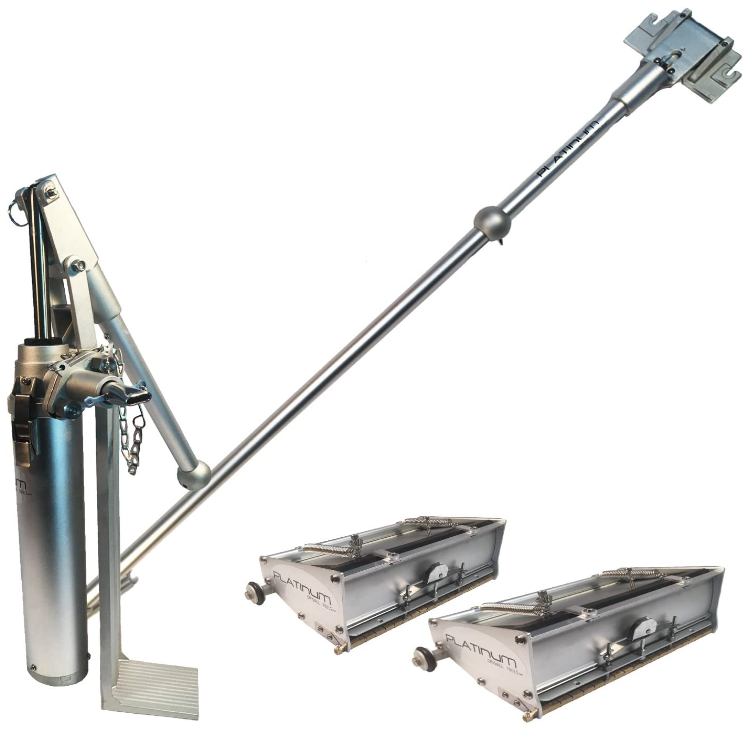 ---
Drywall Trowels
Level5 and Blue Steel drywall trowels are two of the most popular brands of trowels, although there are several others. A drywall taping knife is also commonly used, along with a trowel and a drywall mud pan.
LEVEL5 12″ x 4.75″ 0.7 MM Flat Drywall Trowel – $50
PRECISION ALUMINUM HANDLE – Our Level5 12″ x 4.75″ trowel is made with a precision powder-coated aluminum handle that is rigid yet lightweight and durable. This allows for ultimate control and comfort while working.
ROBOTIC WELDING – Our Level5 drywall trowel features robotic welding that is super-strong and long-lasting. Other trowels use typical "through-rivet" designs, which can easily break.
PREMIUM GRADE STAINLESS STEEL BLADES – Our blades are made of premium grade. The European hardened stainless steel taping knife is unmatched in strength and durability. They are also corrosion-resistant, making them ideal for indoor and outdoor use.
PATENTED LEATHER COMPOSITE HANDLES – Our handles are made of patented leather composite, providing a soft feel and superior grip that is comfortable to hold even when wet. They are also heat resistant up to 500 degrees Fahrenheit.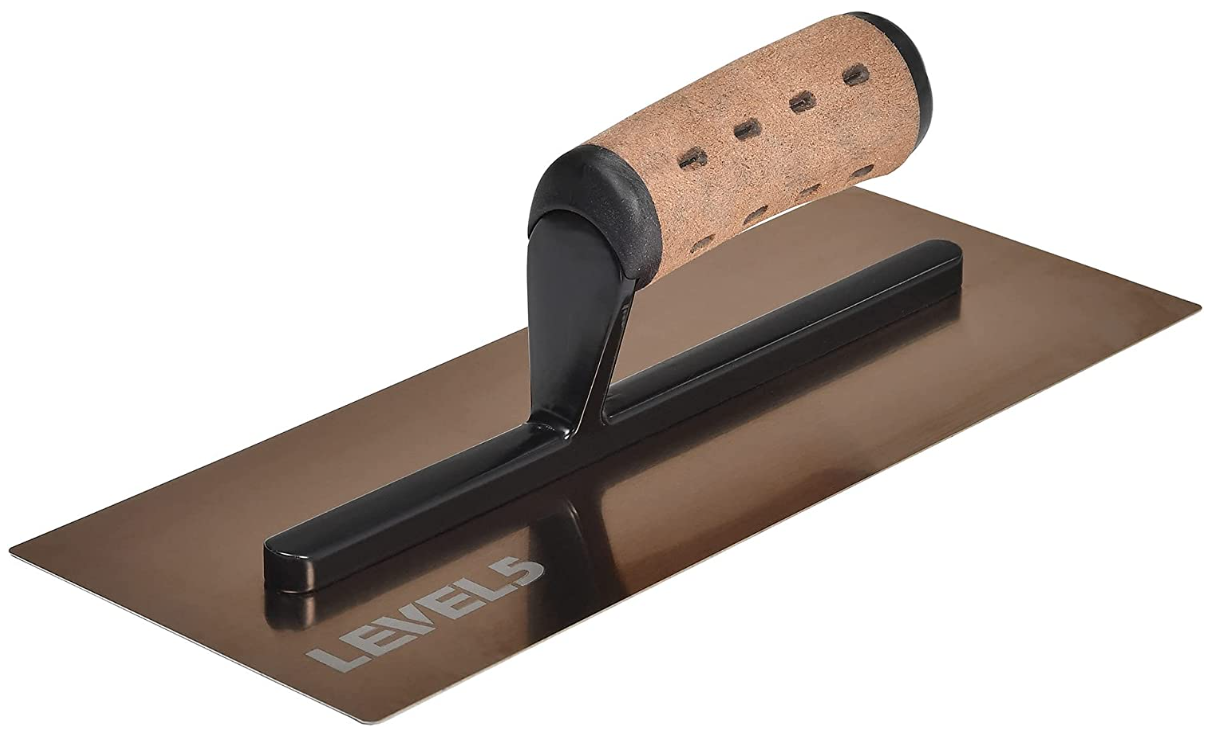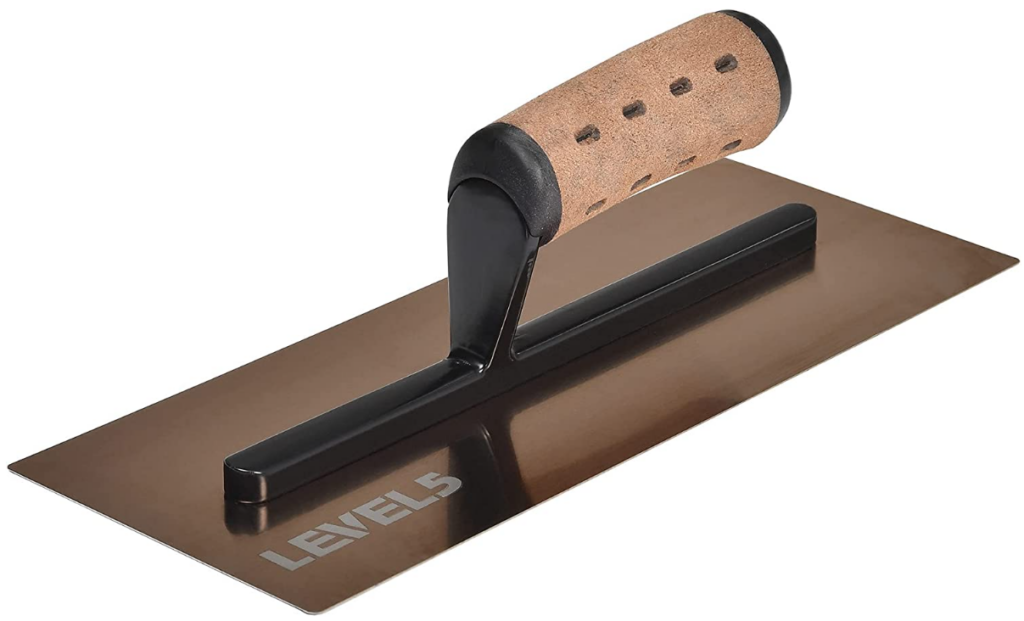 ---
Drywall Sanding Tools
Dustless Drywall Sanding
Dustless drywall sanding is a method of smoothing the surface of drywall without leaving behind any dust. It's a great alternative to traditional sanding methods, which can be very messy and time-consuming.
Dustless drywall sanding uses several tools, including sandpaper, abrasives, sanding sponges, power sanders, and other specialized tools.
Larger areas may require sanding sponges or power sanders for more efficient dust-free drywall sanding.
Various power sanders are available today, including orbital, vibrating, and random orbital sanders. Each power sander provides different levels of speed and efficiency for dustless drywall sanding.
Power sanders are typically more expensive than traditional sandpaper, but they can be worth the investment if used correctly.
Dustless drywall sanding is an effective way to achieve a smooth, professional finish without the mess of traditional sanding methods.
WEN 6377 5-Amp Dual-Head Variable Speed Drywall Sander – $155
DURABLE CONSTRUCTION – This 5-Amp motor provides the torque needed to do the job. The head-mounted motor ensures power is evenly distributed to the sanding disk, while the automatic dust removal system and dust hose keep your work area cleaner.
VARIABLE SPEED – With a speed range of 600 to 1500 RPM, this sander is adjustable to your needs. Whether you're sanding metal, plastic, or wood, Wen has you covered.
EASY TO USE – The triangular and circular hook-and-loop sanding heads make it easy to install and remove sandpaper. No tools are necessary.
MULTIPLE GRAIN SIZES – Comes with an assortment of grit sanding discs, 9-inch in diameter.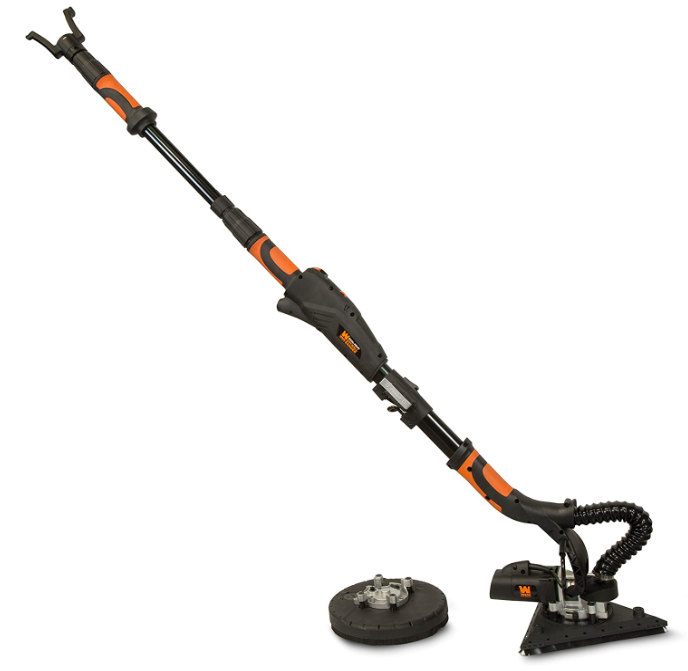 ---