---
DensShield tile backer board is one of the most versatile drywall products you can find. Introduced in 1988, it was the first backer board with a built-in moisture barrier.
DensShield was originally designed as a substrate for interior floor, wall, and countertop tile applications. But its performance in high humidity and wet areas sets it apart.
What is DensShield Tile Backer?
DensShield Tile Backer board is made with a moisture-resistant gypsum core wrapped in an acrylic coating that stops moisture at the surface of every sheet.
While the gypsum core resists mold growth, the outside acrylic coating layer stops moisture from penetrating the sheet.
DensShield Tile Backer absorbs much less water than cement backerboard and fiber cement board.
Testing by Georgia Pacific shows cement board absorbing eight times more water per sheet than DensShield.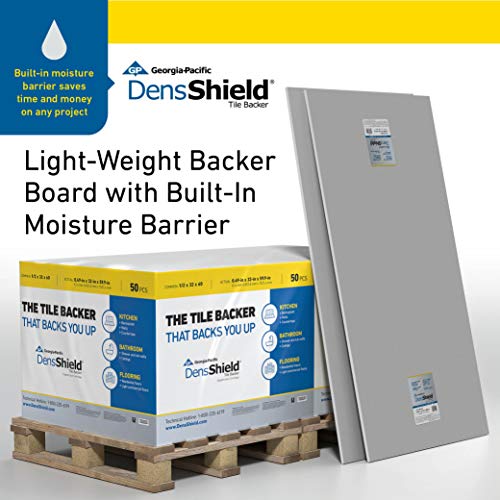 What is DensShield Made From?
DenShield Tile Backer is composed of a water-resistant treated gypsum core covered on both sides with fiberglass mats.
The mats are permanently integrated with the core during manufacturing, preventing delamination.
DenShield retards moisture penetration, protecting the wall cavity. It is mold-proof, preventing mold and bacterial growth behind the panels.
DensShield is ideal for tile installations and ceramic tile underlayment.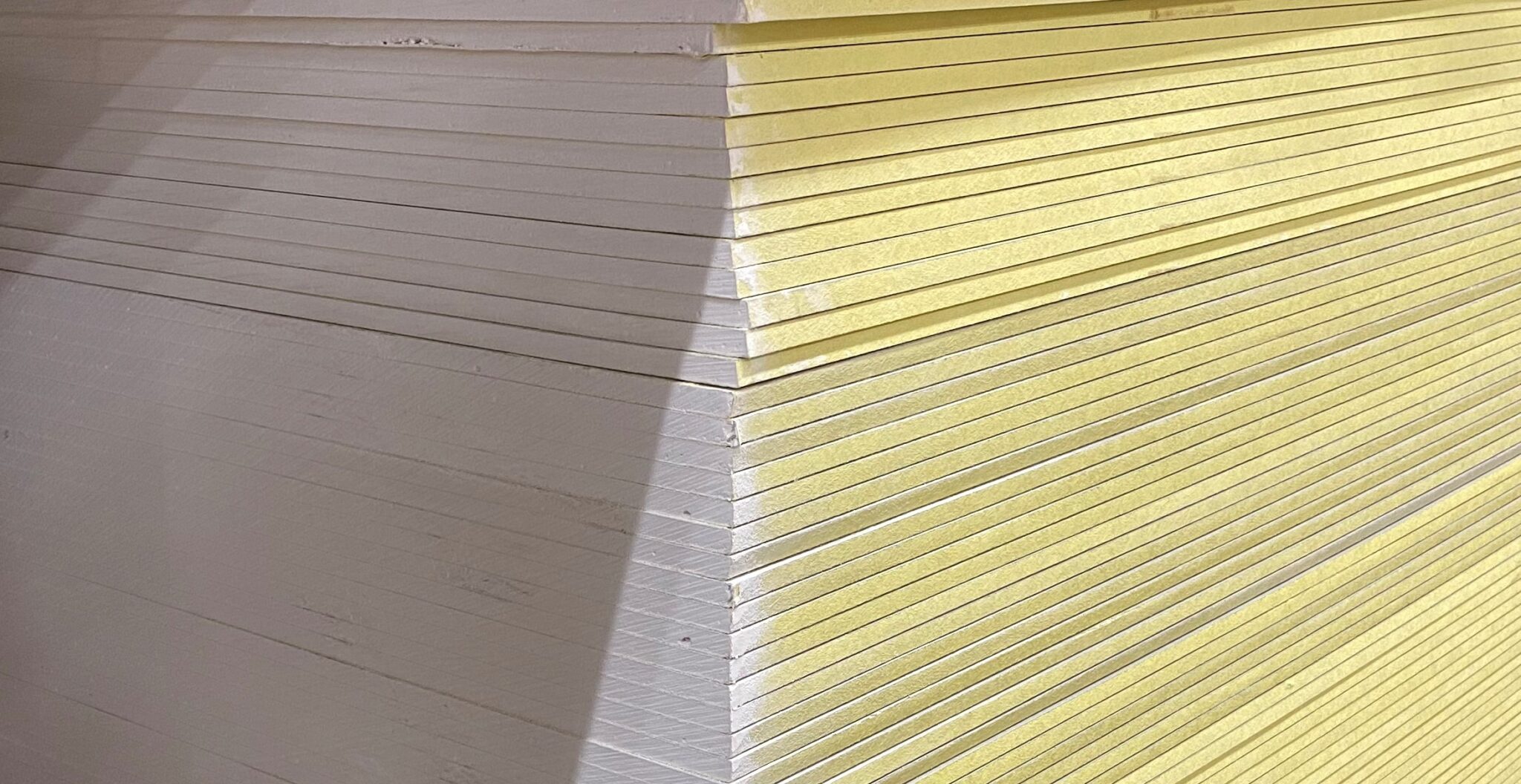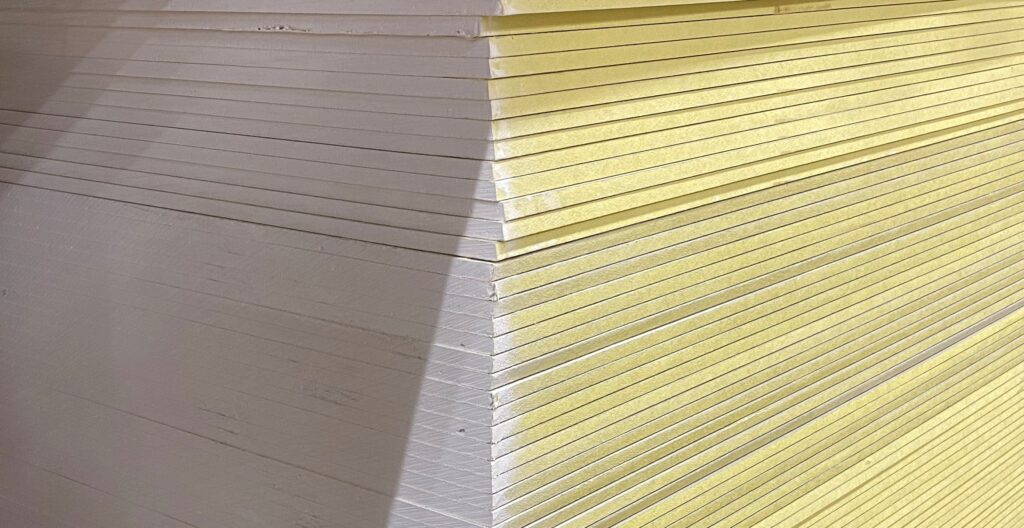 ---
What is Backer Board?
Backer board is a substrate material made specifically for tile. Unlike wood substrates like plywood that have the potential for warping, backer board is hard and flat, with a level and consistent surface.
Because it is stable, tile can be adhered to it using a thin-set mortar.
Backer board holds up to moisture seeping behind it, making it a great choice of drywall for wet locations, such as bathrooms, laundry rooms, and pool areas.
Cement Board or Gypsum Core?
Durock is a popular cement board product manufactured by USG that's been used for years as a tile backer.
It's heavier and more difficult to install compared to the gypsum core DensShield backer.
For difficult cuts, electric drills and carbide tip circular saws are necessary. With DensShield, you only need a utility knife.
DensShield Sizes
DensShield is manufactured in a few different sizes. They also produce a 5/8″ Type X board for fire-rated assemblies.
The panels are available in the following thicknesses, widths, and lengths:
¼" thick: 4' x 4'
½" thick: 32" x 5', 4' x 5', 4' x 8'
5/8" thick: 4' x 5'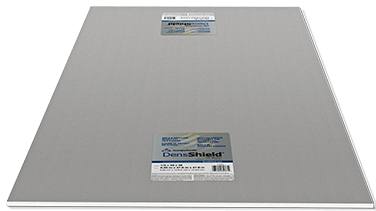 How to Install DensShield Tile Backer
One of the advantages of DensShield Tile Backer is that it is lightweight and easy to install. It's more than 40% faster to install than cement board.
It scores and snaps easily just like regular drywall using an ordinary utility knife. In addition, no additional moisture barrier needs to be used.
The installation technique differs slightly for different applications, such as shower walls or ceilings, shower pans, bathtub receptors, floors, and countertops.
Advantages of Installing DensShield
Cuts like drywall with a utility knife
Lightweight
Does not require special screws – any rust-resistant screws will work
No additional moisture barrier is required
Backed by a Lifetime Limited Warranty on residential projects, and 20 year warranty on commercial projects in the U.S.A.
DensShield Tile Backer – Which Side Is Up?
When installing DensShield, the grey coated side should always be facing out, away from the wall studs.
Sheets can be installed horizontally or vertically, depending on the layout of framing.
You can easily find instructions for a particular type of installation from the manufacturer on YouTube.
How to install DensShield? This video covers everything. You will find everything you need to know about installing DensShield tile backer from this presentation.
---
Simple Steps to Installing DensShield
Here are the three easy steps for installing DensShield Tile Backer:
Measure and Cut: The panels should first be positioned next to the framing, with the coated side facing away from the studs.
They can be scored with a simple drywall utility knife, something you wouldn't be able to do with a cement backer board.
Panels should be installed parallel or perpendicular to the framing with the ends and joints closely fitted.
Fasten: Fasteners should be spaced 6″ on center for both walls and ceilings. The fasteners should be driven so they are flush with the coated surface.
Caulk and Tape: You can establish a moisture-resistant envelope by caulking the intersecting joints and corners of the panels and around a tub base or shower pan.
The sealant should be applied before taping the joints. Apply a self-adhesive 29″ wide fiberglass mesh tape over all the joints and corners.
Then embed the tape with the same material used to set the tiles.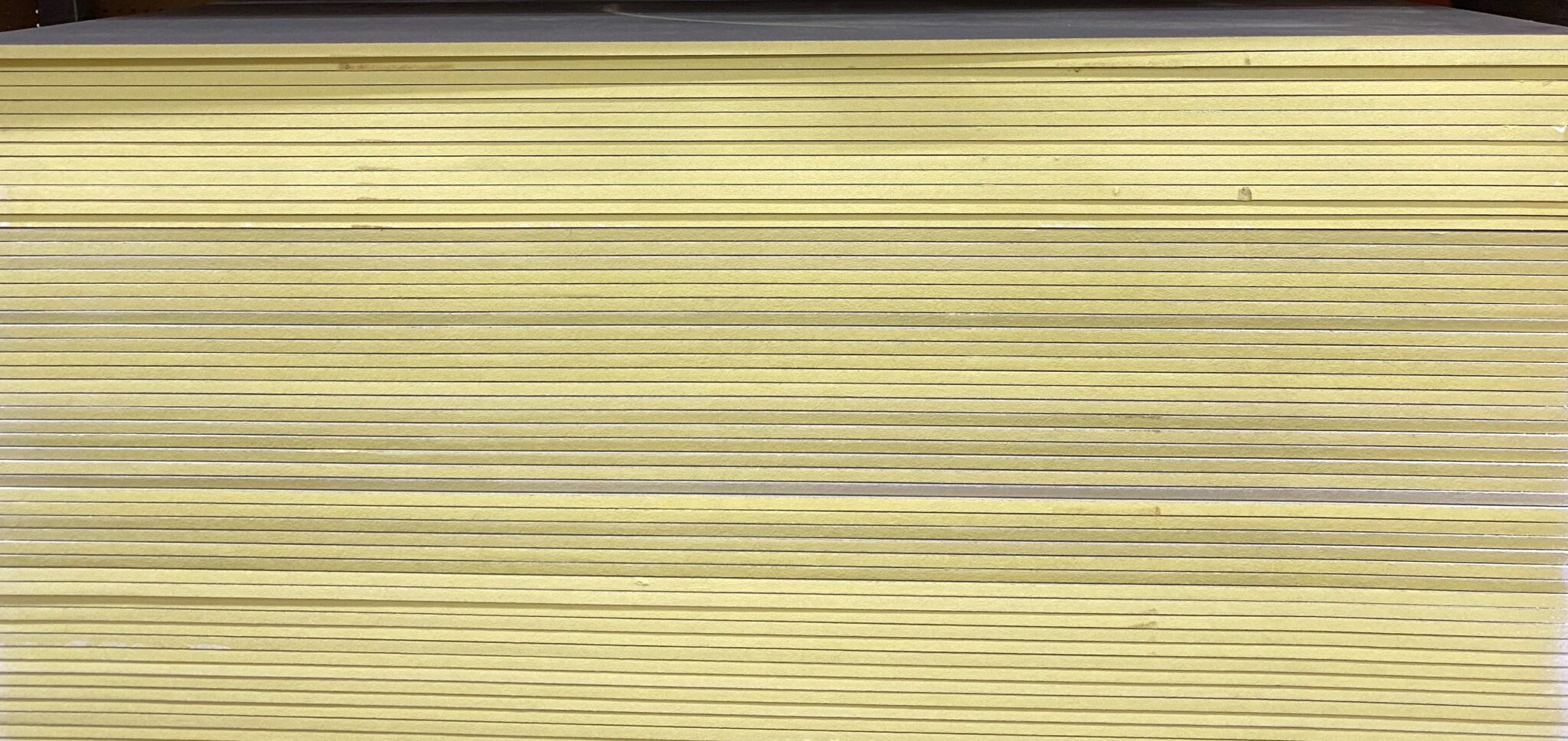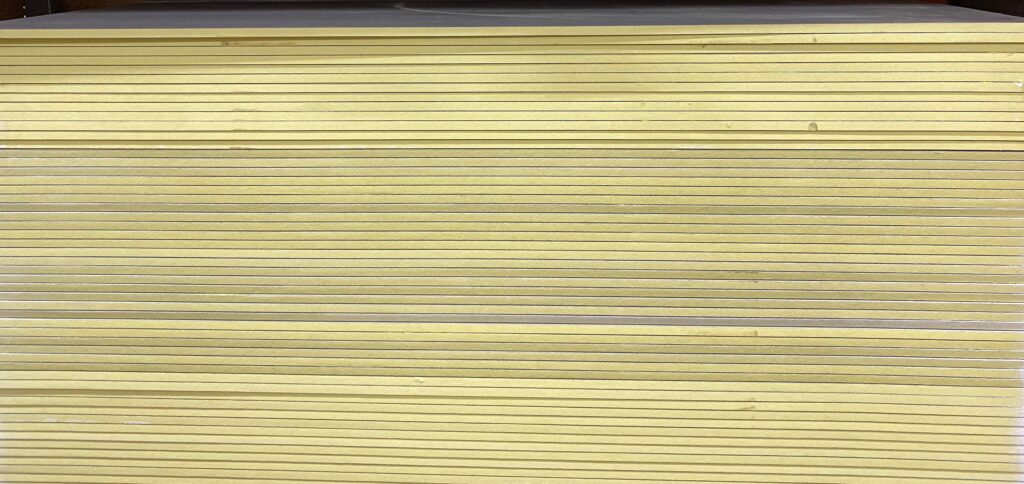 ---
Where to Use DensShield Tile Backer
DensShield Tile Backer can be used wherever wetness, moisture, and humidity are present in both residential and commercial settings. Here is a list of areas where DensShield is suitable:
Bathroom floors
Bathroom ceilings
Bathroom walls
Bathroom Remodeling
Kitchen Backsplash
Kitchen counters
Kitchen floors
Kitchen walls
Shower walls
Steam rooms
Who Makes DensShield?
DensShield Tile Backer is manufactured by Georgia-Pacific Building Products, a company known for creating innovative, high-quality products designed for commercial and residential buildings.
Established in 1927, the company produces sub-floors, exterior sheathing products, and drywall.
In addition to making DensShield, Georgia-Pacific is North America's No. 1 producer of wood panels and a leading producer of gypsum products and lumber.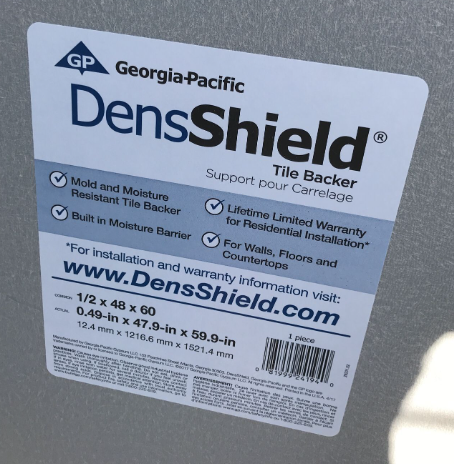 Where to Buy
You can purchase a full range of DensShield Backer Board options at most popular home improvement stores, including Home Depot, Lowe's, and Menards.
It's usually one of the most readily available residential construction supplies.
To find a source near you, add your zip code to "Where to Buy" on DensShield's website: GP.com
Pricing is roughly $20 per 32" x 5' sheet, but pricing fluctuates depending on various commodity prices.
If you are looking for a reliable tile backer board that is simple to purchase, easy to install, and meets all the codes for performance and flame resistance, Dens Shield Tile Backer Board couldn't be a better choice.
An added bonus is that it is produced by a respected company that has been around for 100 years and is committed to protecting its clients and the environment.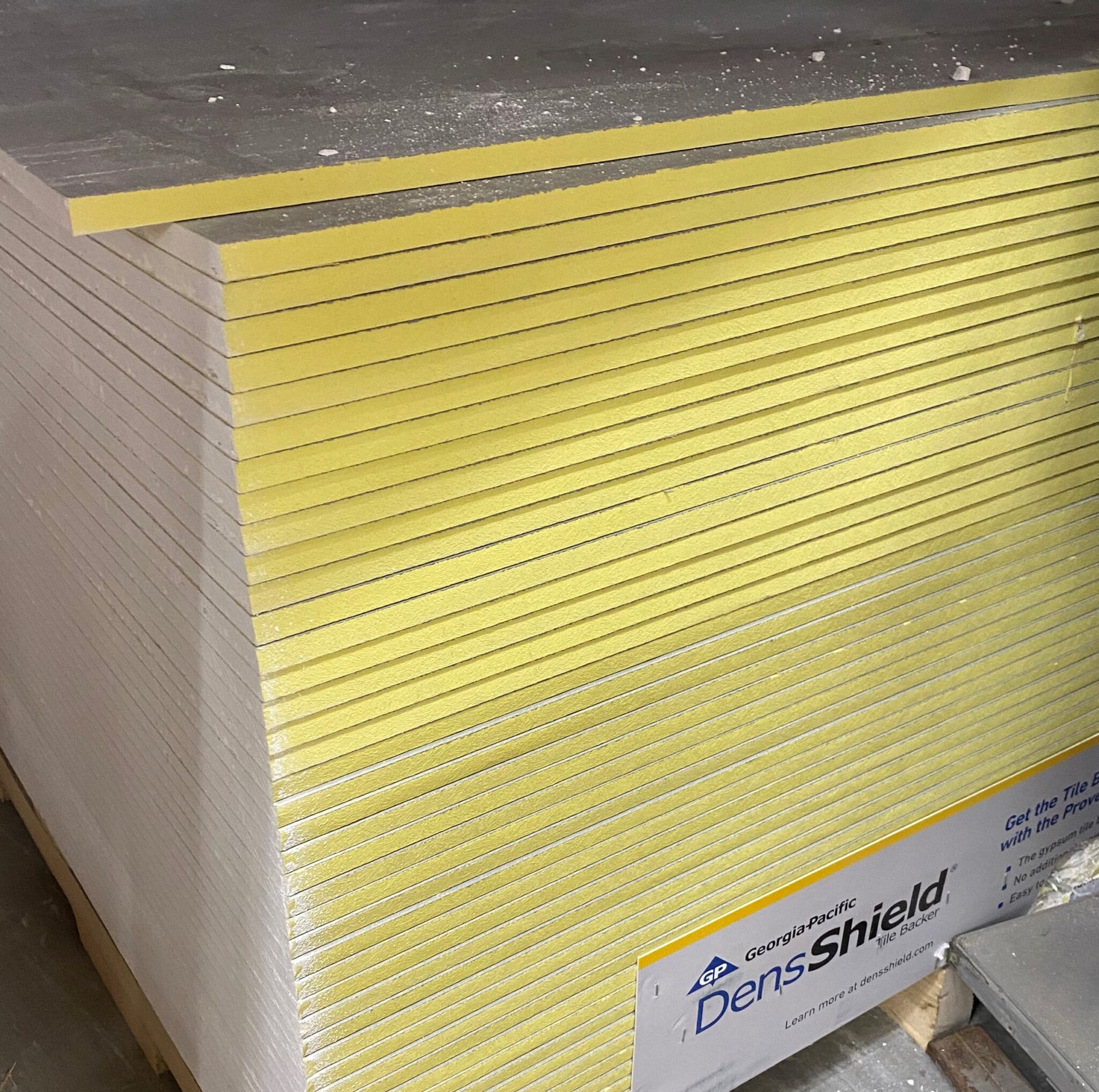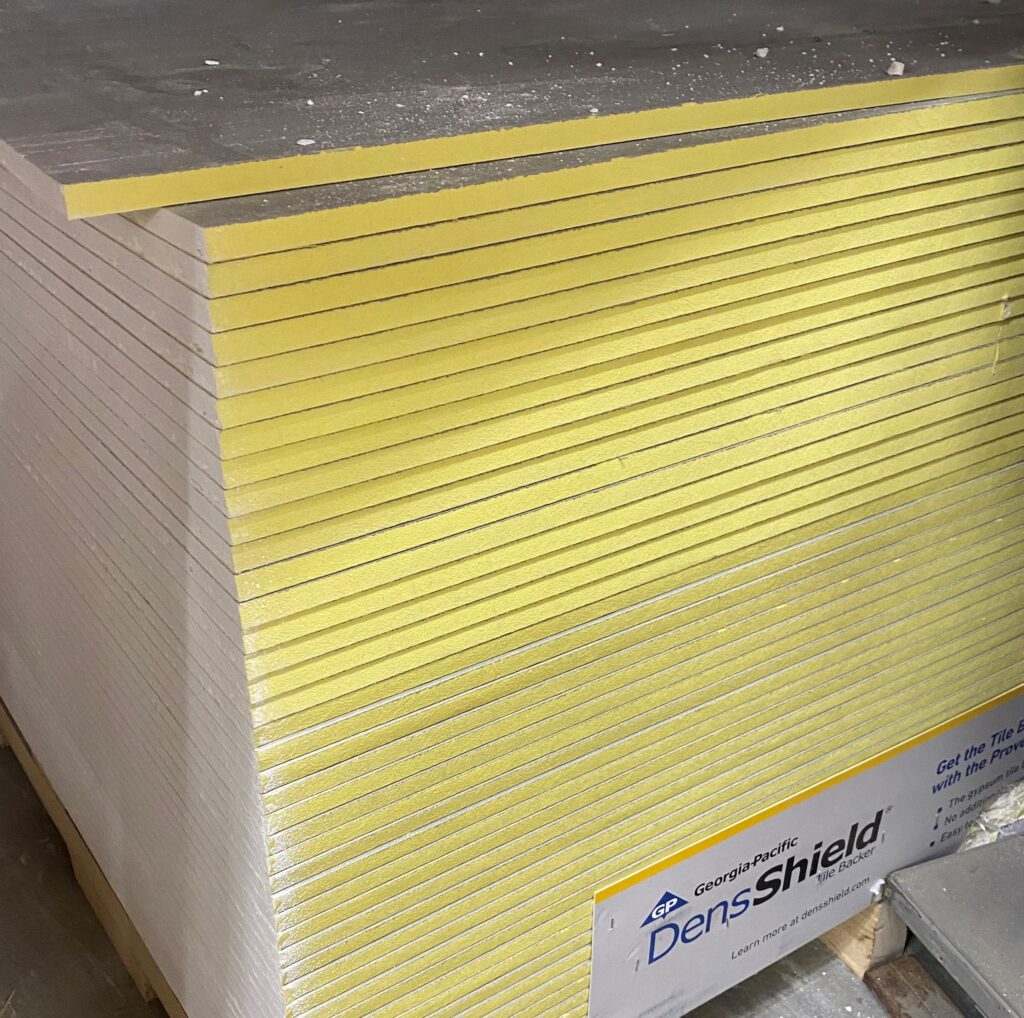 ---
READ more about other popular drywall products –
What You Need To Know About Ballistic Drywall
Sheetrock Vs Drywall: The Guide To Gypsum Panels
Green Board: The Basics Of Water-Resistant Drywall
---
What Tests Does DensShield Pass?
DensShield has undergone numerous laboratory tests for performance, fire rating, and sustainability, and has met or exceeded the following standards:
ASTM E84 Standard Test Method for Surface Burning Characteristics of Building Materials
ASTM C1178 Standard Specification for Coated Glass Mat Water-Resistant Gypsum Backing Panel. Classified as Type X , accepted for use as a tile backer in shower and tub areas in accordance with IBC and IRC Codes
ASTM D3273-12 Standard Laboratory Setting Test Method for Mold Resistance on the Surface of Interior Coatings in an Environmental Chamber
ASTM E119 – 10b Standard Test Methods for Fire Tests of Building Construction and Materials
ASTM D6329 UL 2824 Environmental Claim Validation for Mold Resistance
ASTM C627 Robinson Floor Test Standard Test Method for measuring load strength of the tile floor assembly
ASTM E96: Standard Test Methods for Water Vapor Transmission of Materials, which rates water movement through a material's surface (vapor permeability) over a period of time
ICBO-ES Percolation Laboratory Test: Measures how much water passes through a panel within 48 hours. The test showed that DensShield stopped water at the surface,
Conforms to requirements of the 2009 IBC/IRC Code for tile backers in wet areas.
Backed by GP Quality
GP defines sustainability as meeting the needs of today's society. It uses resources efficiently to provide products that meet its customers' needs while operating in a way that is both environmentally and socially responsible.
It focuses on the following:
Improving energy efficiency at its manufacturing plants
Seeking to reduce water use and reuse water more efficiently
Finding cost-effective ways to reduce air emissions
Recovering and reusing materials that otherwise would end up in landfills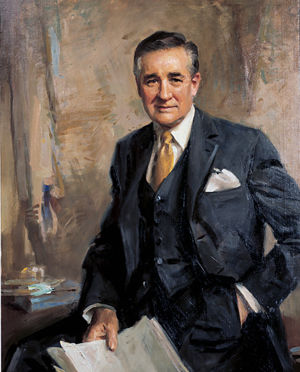 A little-known fact about Georgia Pacific is that its founder, Owen Robertson Cheatham, was a distant nephew to Ben Franklin. "With $6,000 in his pocket, he arranged financing of another $6,000 and, with characteristic boldness, opened the doors of Georgia-Pacific in September, 1927." Source – WorldofForestry.org
---
Backed by the GP Reputation
DensShield Tile Backer is manufactured in keeping with GP's environmental principles listed by the following two environmental organizations:
The Collaborative for High-Performance Schools (listed on its low-emitting materials list)
GreenGuard Environmental Institute (listed as a microbial-resistance product)
DensShield was the first tile backer named by GreenGuard as a microbial-resistant product.
It was tested under controlled laboratory conditions to demonstrate resistance to mold growth in compliance with SDTM Standard d 6329-98 and ASTM D 3273.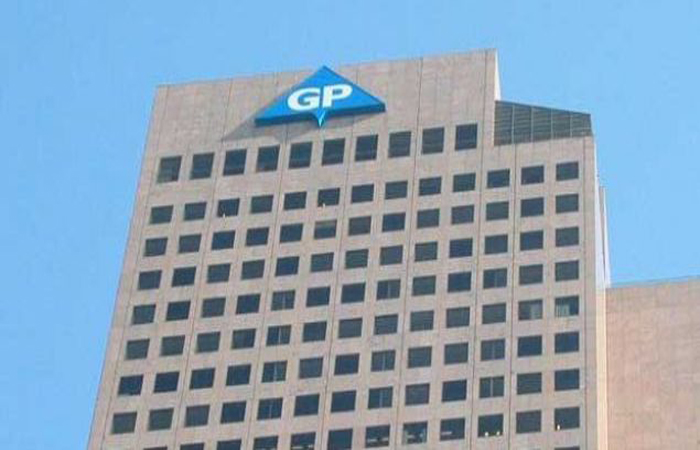 Georgia Pacific Sustainability
There's a saying in the drywall supply business, and it goes something like this, "we have one simple pledge: to get the right products into our customers' hands as quickly and safely as possible…"
Georgia Pacific gypsum is one of the largest manufacturers of drywall products, and they take sustainability seriously.
Georgia Pacific (GP) has been committed to environmental stewardship, including using wood sourced from certified sustainable forestry methods.
GP is one of the top brands responsibly using natural resources since its inception almost 100 years ago. Many products are certified by GreenGuard, LEED, Green Seal, and UL Responsible Sourcing.
---
---
What is a Demising Wall? READ more here –
---

Additional Resources –
DensShield Tile Backer – Georgia-Pacific
Current DensShield Pricing – Home Depot
Gypsum Moisture Board Recommendations – 2018 International Building Code
---