---
You might be wondering if soundproof drywall really works, what the best products are for soundproofing, and how to install them.
The quick answer is yes, soundproof drywall really works to block sound waves from transferring through an adjacent room.
And there are several additional products to complement soundproof drywall, like green glue and resilient channel, to boost STC rating performance.
Soundproof Drywall – What is STC?
The first thing to know when selecting a soundproof drywall is the required STC rating. What is the STC? Great question. Long story short, "STC" is the Sound Transmission Class, or the rating of how wall partitions handle airborne sound.
The STC rating is determined by the architect as a guide for how much sound must be blocked from passing through the wall system. It's up to the contractor to construct walls that meet these "STC" requirements.
Typical STC Requirements
To give you a rough idea of what STC ratings are typically used in different environments, let's take a look at commonly required STCs.
School Classrooms – STC 42 to 52
Doctor's Office – STC 52 or higher
Hotel – STC 48 to 52
Multi Family Housing – STC 48 to 55
Exterior Walls – STC 42 – 60
Soundproof Drywall Resources
Your favorite supplier should be able to give you a quick rundown of soundproof drywall. In less than five minutes, they should be able to rattle off a brief summary.
There are only a few popular products and manufacturers to choose from. They should know the benefits of each as it relates to the specifications required for your project.
If you are on your own, here's a quick review of soundproof drywall panels, STC rating, and the best option for noise reduction soundproofing drywall.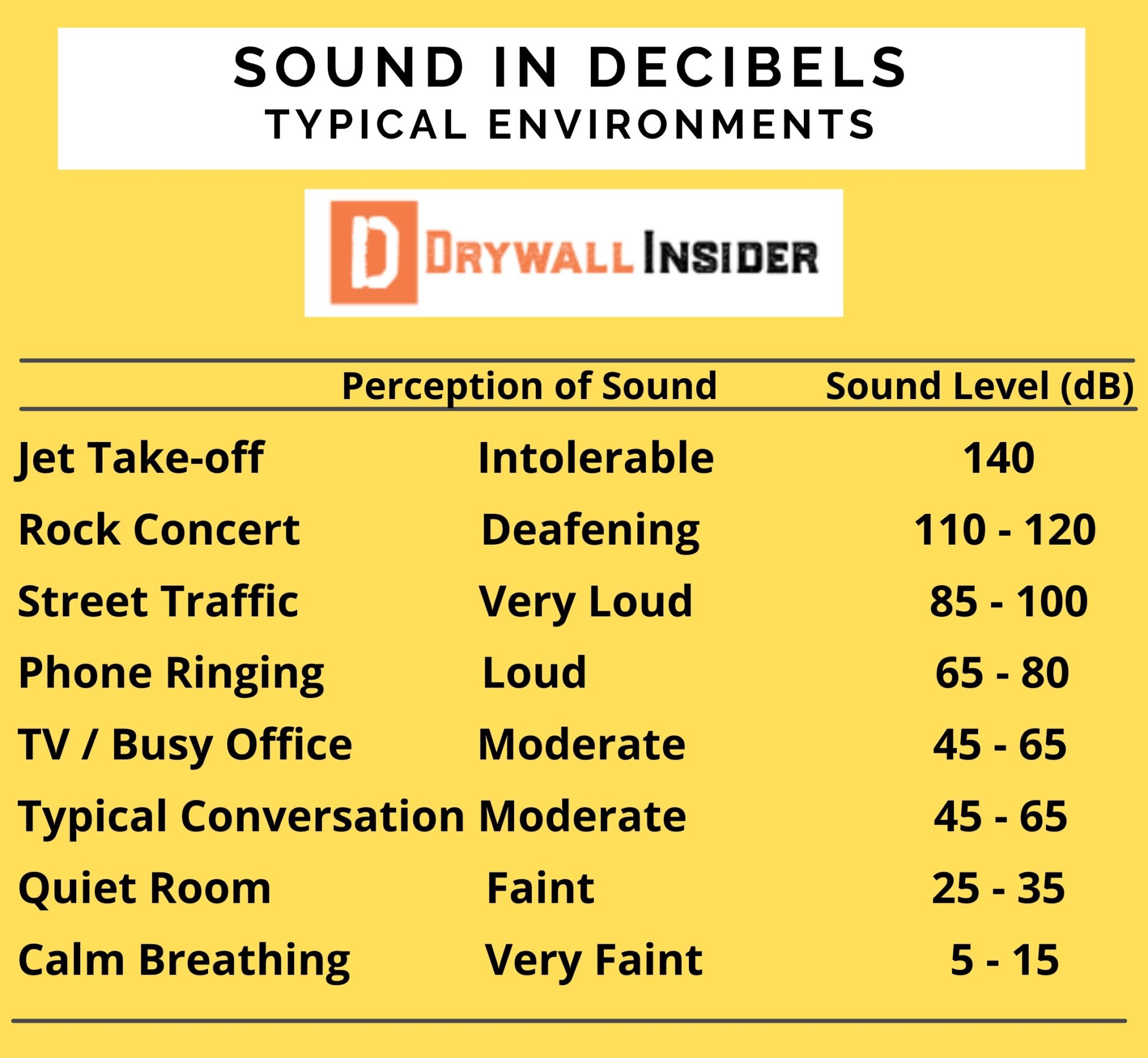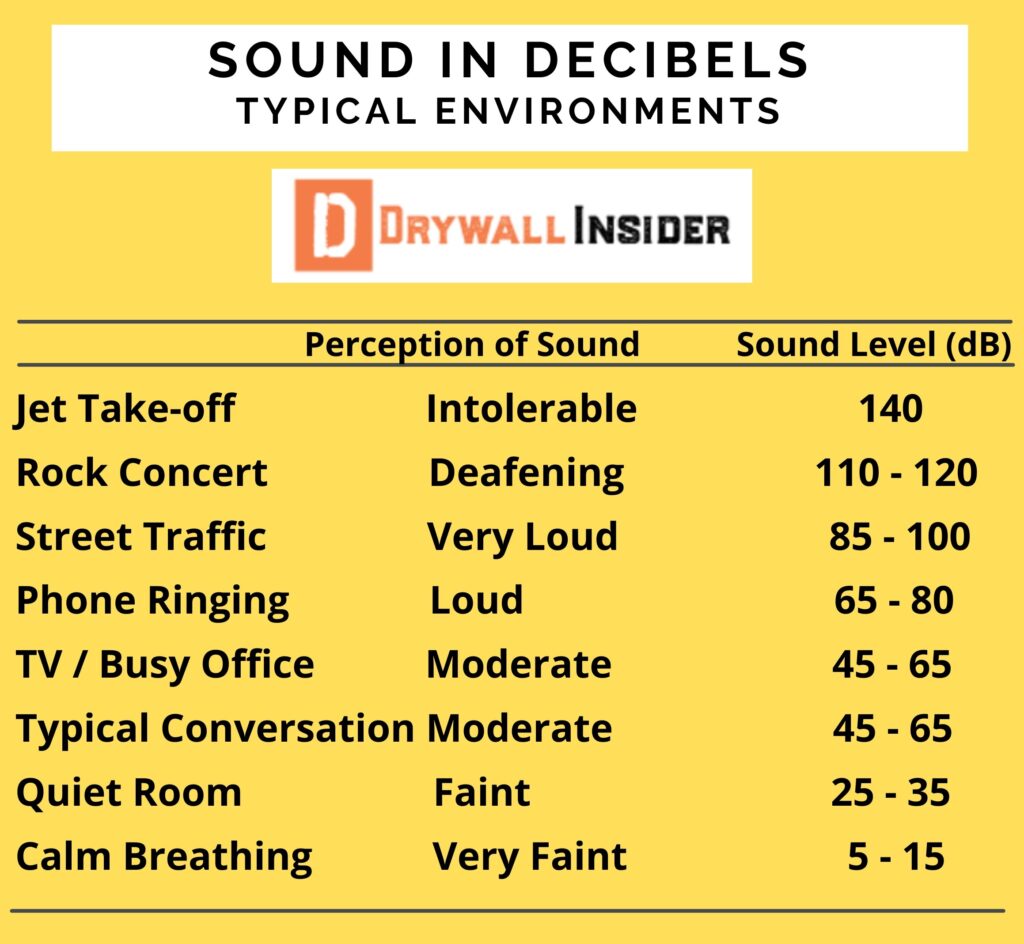 Choosing the Right Soundproof Drywall
Many factors come into play when selecting a soundproof drywall material for your project.
First and foremost, follow the plans and specifications to understand the architect, designer, and owner's intent. You will want to know the difference between each soundproof product.
Second, thoroughly price the specified products as called out on the project documents.
Third, offer a few alternatives and be ready to explain the positives and negatives of each. Have your supplier give you recommendations, along with current pricing and any procurement issues or long-lead times.
What Is Soundproof Drywall Made With?
Typical sheets of drywall are produced with a gypsum or calcium sulfate core.
Soundproof drywall is engineered with not only a gypsum core but also includes ceramics and viscoelastic, which allow less sound wave transmission.
QuietRock – Soundproof Drywall
QuietRock sheetrock is a common and effective method for soundproof drywall in commercial applications.
There are several options, but the QuietRock ES is part of the E-Z Snap line, which combines solid Sound Transmission Class ratings and can be installed by scoring and snapping the sheet just like standard drywall.
This keeps the labor cost down when carpenters are installing the sheets. It's STC rated and tested to reduce noise through a wall or floor assembly.
Pabco Building Products has been producing QuietRock since it purchased the product from Serious Energy in 2013.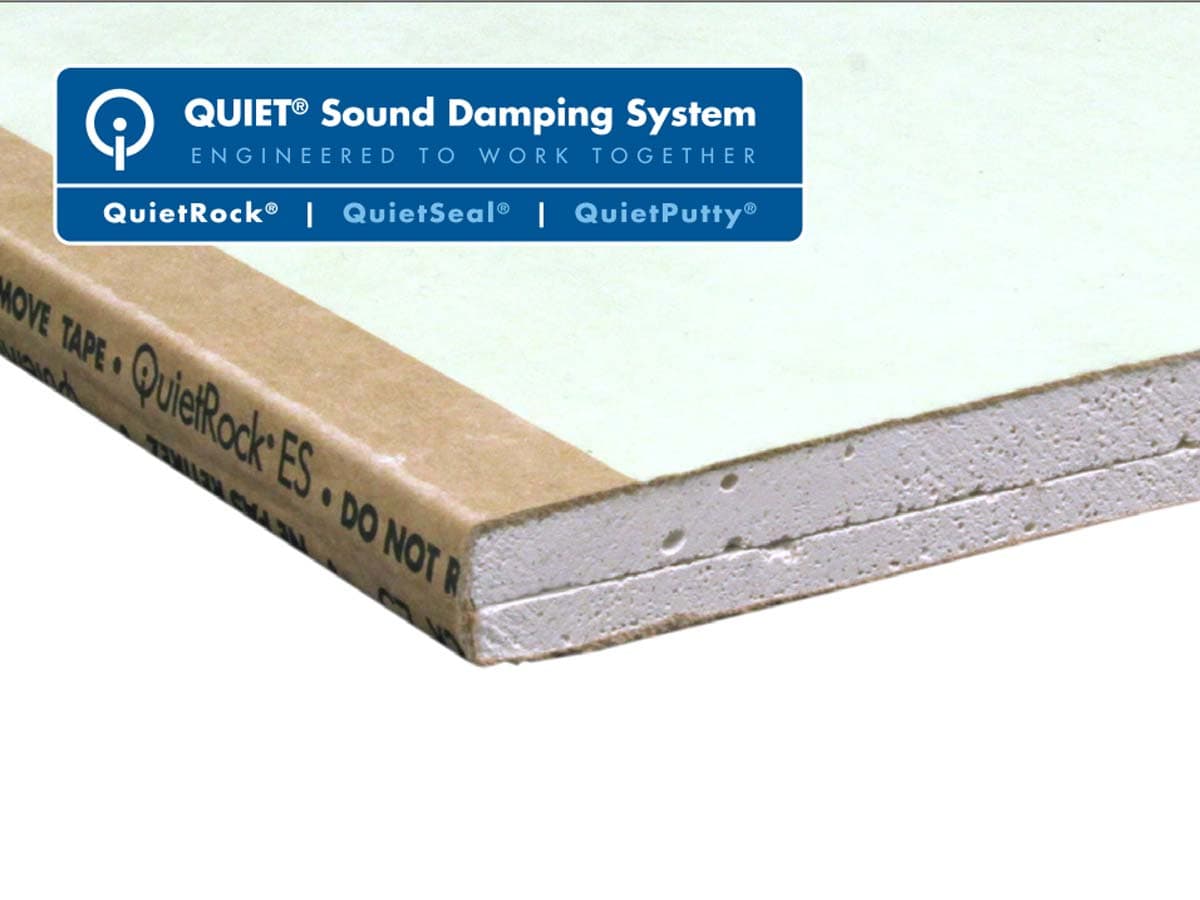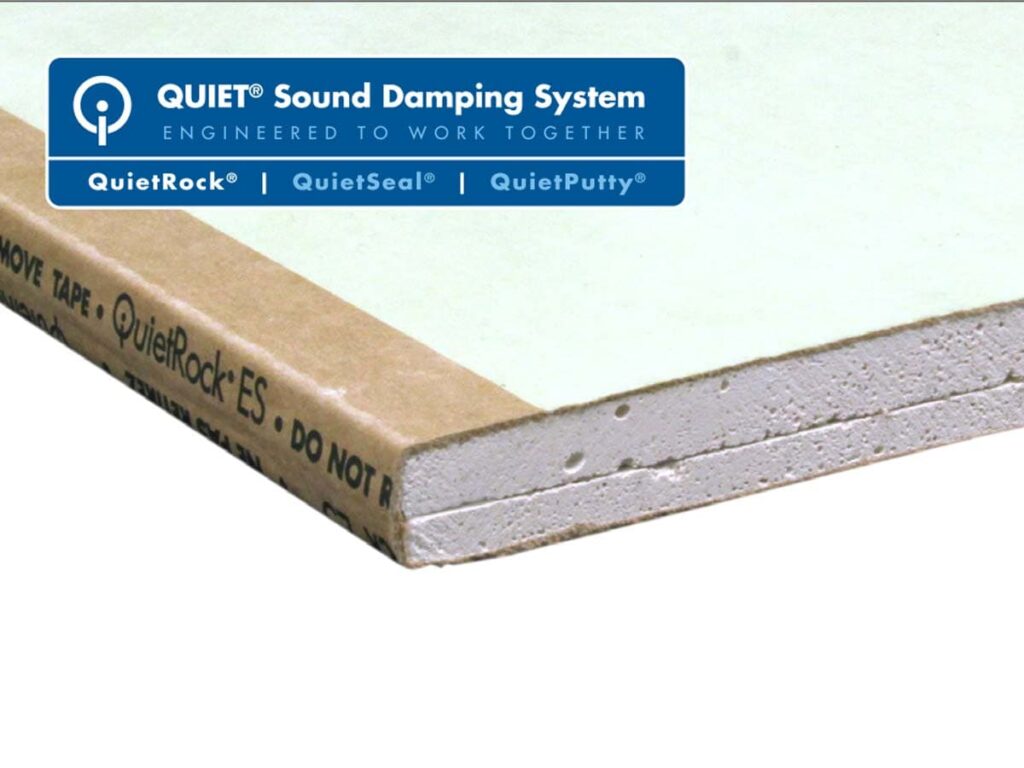 One of the features of QuietRock panels is the ability to offer STC ratings without taking up an abnormal amount of floor space.
Pabco develops soundproofing products with "thin wall technologies," where less material is required, less space is wasted, and less time to install.
QuietRock
One single layer of QuietRock can outperform multiply layers of drywall, thus providing labor savings.
With increased labor and material costs, adding a second layer of drywall just for STC purposes is usually not a wise decision.
Don't forget about the QuietRock EZ-Snap Mold Resistant panels to contribute to a healthier indoor environment.
The mold-resistant treatment of the paper and core meet ASTM D3273. The mold-resistant panels are also listed in over 90 ULs for fire-resistant assemblies.
---
SoundBreak Drywall
SoundBreak XP by National Gypsum is produced using a special purple paper wrapped over moisture, mildew, and mold-resistant, high-density gypsum board.
These products are laminated together with sound-damping, viscoelastic polymer. The acoustically enhanced core of the gypsum panel is wrapped with heavy paper on both sides.
Soundproof Drywall by National Gypsum
SoundBreak can also be cut by scoring the sheet and snaping, much like QuietRock. SoundBreak XP 5/8″ thick drywall is Type X fire-rated and can achieve STC values as high as 56 for a single-layer steel stud assembly.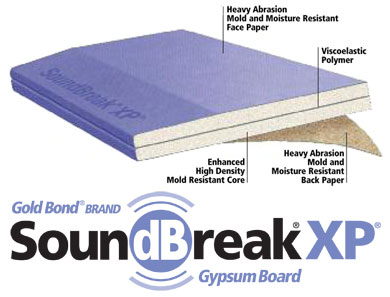 ---
Consider using the SoundBreak XP demo tool offered at this link.
You'll be able to compare different noise volumes transmitting between rooms at interior walls, like a home theater or home office, for example, with SoundBreak XP on the walls.
SoundBreak XP RetroFit
SoundBreak XP also offers a retrofit product for use on existing walls. It can be easily scored and snapped and doesn't require expensive acoustical sealant.
The 5/16″ thick gypsum board is attached directly to the existing drywall to increase STC values and solve noise problems without costly demo construction costs and unnecessary dusty drywall work.
Certainteed SilentFX Quickcut Drywall
Another option for soundproof drywall is SilentFX Quickcut by Certainteed. With it's viscoelastic polymer sandwiched between two dense gypsum cores, SilentFX drywall will achieve higher STC ratings than typical wallboard.
Certainteed's specially designed soundproof board is easy to score and snap for quicker installation times and increased labor savings.
SilentFX drywall also features 100% recycled mold and moisture resistant paper on both sides of the sheet.
The product is made in both 1/2″ and 5/8″ thickness. The 5/8″ thick product is 'Type X' for fire resistance partition types.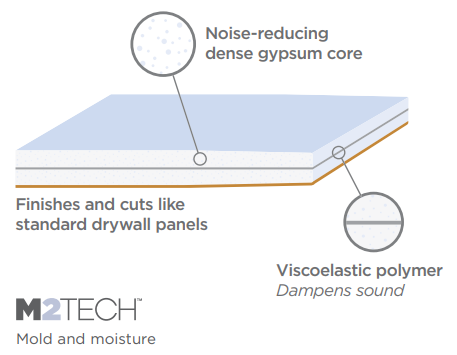 STC Ratings for Drywall
There's a handful of other soundproofing products offering greater STC ratings than standard drywall.
Some are UL tested and ASTM rated. Others, not so much. Some might deliver better results and fall within your project budget; others seem to cost a fortune and may not be realistic for your project.
There are many other ways to achieve a greater sound transmission class. A few ideas would be to space out your metal or steel studs more, from 16″ on center to 24″ on center, where possible.
Other Options for Soundproofing and Greater STC
Spacing studs wider reduces sound vibrations by reducing the amount of material that sound travels and transmits through. Another idea would be to increase the stud depth from 3 5/8″ to 6″ studs.
This could give you 3 – 4 additional STC points in your wall assembly by adding additional fiberglass insulation.
The addition of hat channel or resilient channel will also reduce sound transmission through the internal walls.
Cellulose insulation, rockwool insulation, and porous or perforated wall and ceiling panels also offer STC ratings.
If you understand the basics of soundproof drywall, you'll be ready to serve your customer's needs on a potentially unique project.
There are always new and improved products coming to the market offering higher STC numbers. Be sure to lean on your best suppliers to keep you informed on the latest and greatest solutions for your customers.
How Much Does it Cost to Soundproof a Room?
For just a few dollars a square foot, you can soundproof a room to block sound waves and create a higher STC rating. Or even block sound transmission from the neighbors through exterior walls.
QuietRock is roughly four to five times more expensive than standard drywall, but it might reduce the drywall layers on a wall, saving labor costs.
Other Soundproofing Ideas
Dozens of products and building materials claim to reduce sound transmission and airborne noise through walls and ceilings.
Although soundproof drywall might be the most practical, other products, such as mass loaded vinyl or wall mounted acoustic panels might be needed to act as a sound barrier and stop sound waves from penetrating an existing wall with unwanted noise.
---