---
What Is a Weep Screed?
A weep screed is a piece of metal flashing fastened just below the bottom sill plate of an exterior stucco wall.
It's perforated with small holes to pull moisture away from the bottom of the walls below the foundation plate line to prevent water damage.
How Does a Weep Screed Work?
A weep screed is an invaluable part of the stucco application process.
Proper application can be the difference between a building lasting hundreds of years, or one that's destined to rot away and fall apart.
The Functions of Weep Screed
A weep screed or drip screed has one primary function. To allow moisture to flow through the bottom of a stucco wall to prevent water damage to the building structure.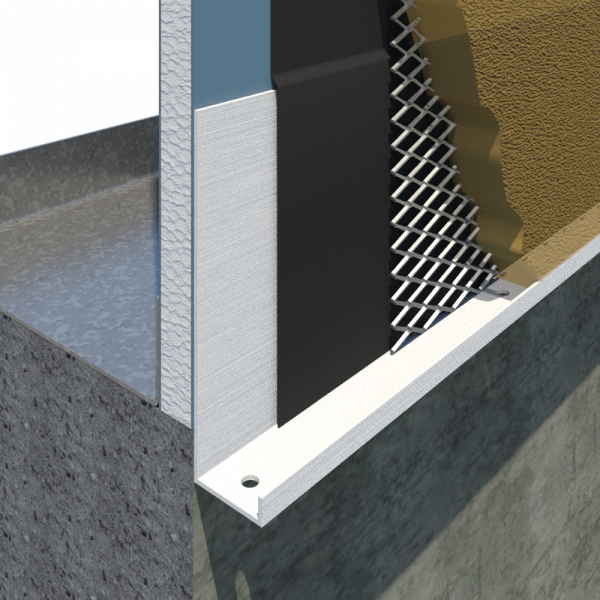 ---
Weep
The "weep" function of the weep screed basically means to drain excess moisture. Exterior walls and windows often have a small weep hole built into them to allow water drainage. The small holes that run along the bottom edge of a weep screed function the same way.
A stucco wall system tends to absorb water, most of which evaporates. Some of the water gets trapped along the back of the stucco membrane by the exterior lath.
Because of gravity, water will run down the stucco walls. Without a specific place to drain, the excess moisture can wreak havoc on the home.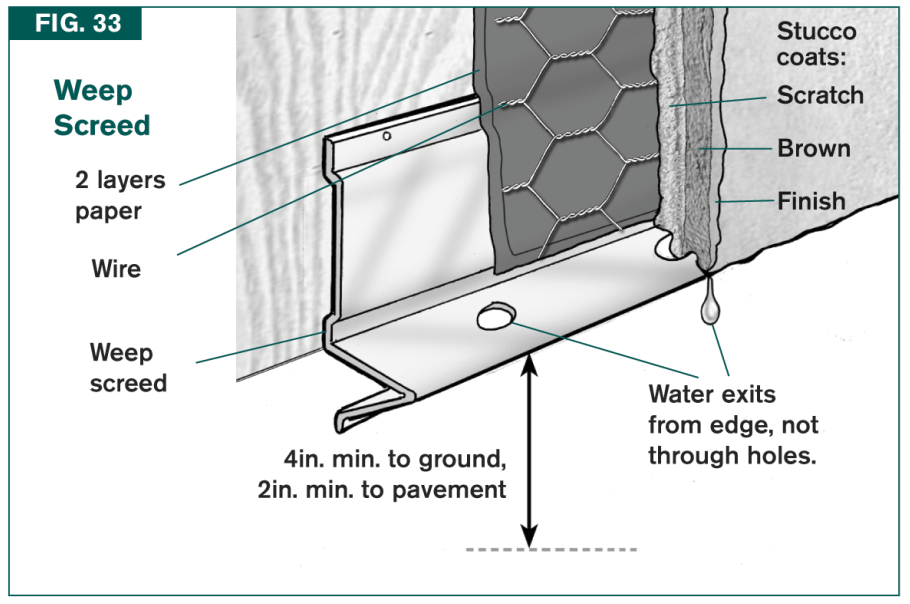 ---
Screed
The stucco or plaster is applied to wire-mesh metal lath on water-resistant building paper in either two or three coats. The weep screed functions to "screed," or to create a level surface.
The metal piece gives a solid location at the bottom of the walls for the stucco to adhere to just below the foundation plate line. That's why it may sometimes be referred to as a foundation weep screed.
Weep Screed for Moisture Control
Water buildup along the back of the stucco membrane can cause numerous problems. Your stucco could bubble and crack. Mold could grow, or water could leak into the walls of your home.
With a wood-constructed building, water could damage the framed walls and structural members where rot could occur. Installation of a weep screed just below the sill plate line helps to stop problems from occurring while also creating a flush surface for the exterior wall.
A weep screed creates a flat, true screed surface at the base of stucco walls and lets excess moisture drain away from the material.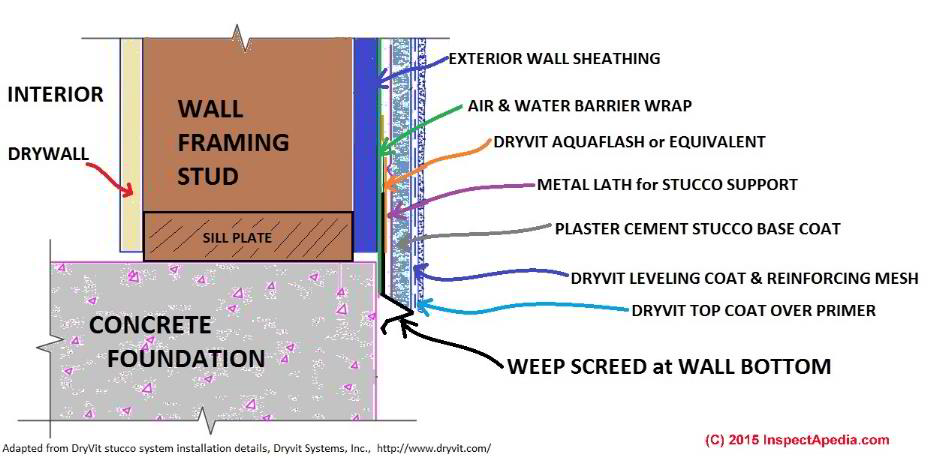 ---
Is a Weep Screed Necessary
While you'll likely find conflicting answers to this question, a weep screed is an important part of any stucco application.
Not only is the weep screed important for moisture drainage and critical to stucco maintenance and upkeep, the screed also provides an easier and more aesthetically pleasing stucco application.
In most counties, building codes require a weep screed. Be sure to check with your local municipality for proper installation guidelines and code requirements.
EIFS and Weep Screeds
Most EIFS systems have a weep screed or starter track, although not all EIFS systems require a weep screed.
Where to Use a Weep Screed
Weep screeds should be used with newer construction where stucco is placed over wood. Excess moisture buildup at the back of the stucco membrane in wood construction could rot wooden lath on top of the usual leaks and cracks in your stucco.
Weep screeds are also used on walls with stone veneers.
Weep screeds may not be necessary if you're applying stucco to match an existing building without a screed. In this instance, be sure to get an exemption to comply with industry standards and local building codes.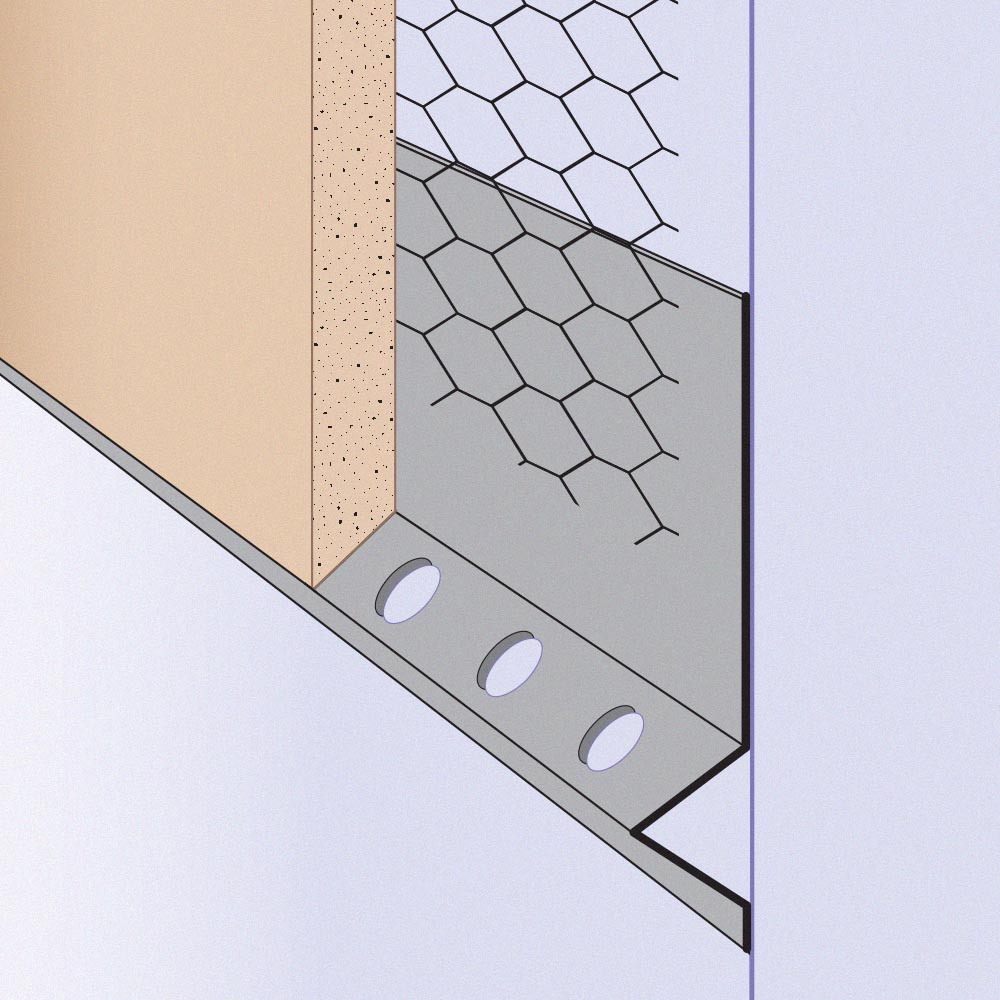 There's a way to determine if water is leaking into your home from behind a stucco wall. A standard test method is to perform a Stucco Wall Penetration and Weep Screed Leak Detection Test.
With this simple test, you'll receive home inspection reports showing any water intrusion, or damage to the structure behind a stucco wall, and determine if further repairs are necessary.
Tips for Purchasing Weep Screed
Homeowners will find Weep screed at retailers like Home Depot or Lowe's, but it's a toss-up on whether either location will have multiple options or any availability.
Specialty stucco supply yards, lumber yards, and drywall suppliers will be your best bet for finding the right weep screed.
Of course, the internet features several great stucco supply retailers. Amazon might carry the largest weep screed inventory in the world, so they are definitely worth a visit.
Types of Weep Screed
Most weep screeds are made from formed metal, and available in galvanized steel, copper, stainless steel, and aluminum.
Large retailers will probably have ⅞" three-coat weep screed, but likely only in one of the two flashing types: 7 and J.
Type 7
The #7 weep screed has a V-shaped bend in the bottom, which looks something like an upside-down 7. It also most commonly features a 3 1/2" nailing flange.
This is a more common type of weep screed and can typically be found in older buildings. If you're able to find a weep screed at Lowe's or Home Depot, it will most likely be a #7.
---
J-Type
The J-type is less common than the #7 and will mostly be found at stucco supply yards. The flashing has a simple curved bend at the bottom, giving the metal its "J" shape.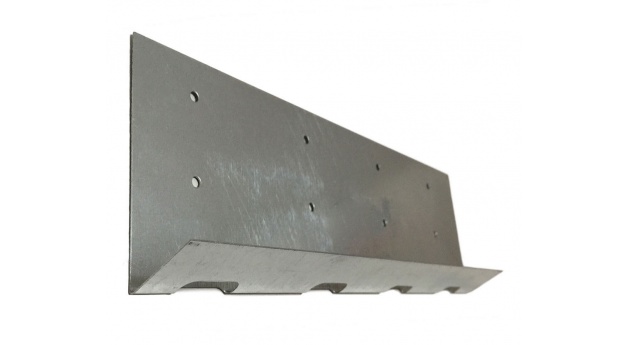 ---
Where to Purchase Weep Screed
The best choice for purchasing a weep screed will be at a stucco supply yard. Not only will they have all the material for stucco installations, but they'll have a variety of options for two-coat or three-coat stucco systems.
If you're a General Contractor hiring a plaster sub-contractor, they will typically buy weep screeds at specialty building supply yards, rather than big-box retailers.
Staying Up With Local Codes
As mentioned above, most counties will have specific codes in place for weep screed. Depending on where you live, there will be different standards for installation overlaps and clearances.
Some locations have codes that specify the sizes of the ground flange for a weep screed. When looking up your local codes, be sure to find flashing that adheres to those codes so you'll pass inspection.
Certain codes may also require a specific type of corrosion-resistant weep screed.
All of the above versions of a weep screed will usually be stocked at your local stucco supply yard.
ASTM C926 and C1063
One more thing to consider before purchasing weep screeds. You'll want to know what's outlined in ASTM C926 and ASTM C1063, minimum stucco cladding requirements. The guidelines show best practices for stucco walls, and in this case, flange depth, dimensions, and widths of stucco weep screeds and vent screeds.
If you're working on a commercial project, most likely the specifications will also address ASTM C1063 and C926. It's best to know these general rules, and how different building products comply with the building code and the ASTMs.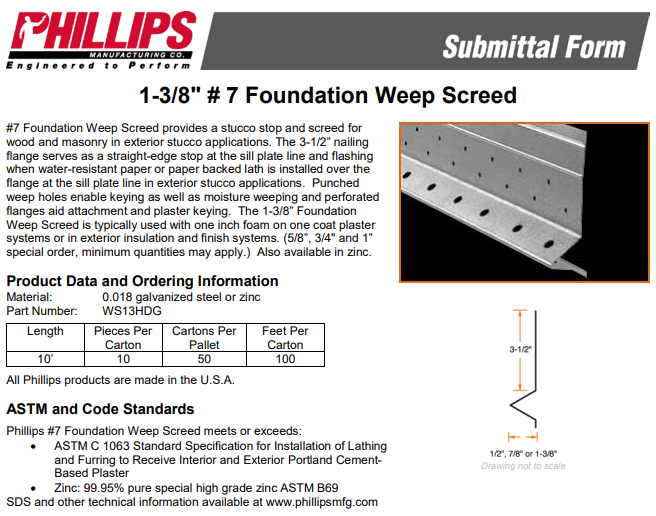 ---
Different Names for Weep Screed
While the screed is just a piece of metal with a bend and holes in it, the jargon behind the name can be somewhat confusing.
Screeds can sometimes be called foundation weep screed, drip screed, or stucco weep screed. All of these serve the same purpose and are the same type of flashing.
The key to look for is the type of metal and sizing to comply with local codes. Otherwise, a weep screed, either a #7 or J-type, all serve the same function.
Take Your Time and Do It Right
The importance of a properly installed weep screed cannot be stressed enough, but the reality is often times they don't function very well because of uninformed installers.
Take time to learn the vital aspects of a well-functioning weep screed to protect the lifespan of your building.
---