---
Drywall estimating software has come a long way. The drywall estimating process is integral to any construction job, large or small. Calculating accurate estimates is necessary for a drywall business to win projects and help anticipate costs before construction begins.
Before the age of computers, professional estimators had to calculate everything manually. Construction estimating consisted of using pencils, rulers, and calculators. It was a complex, time-consuming, tedious task that was difficult to do accurately.
Since the beginning of the 21st century, estimators have used digitizers to improve the accuracy and speed of the takeoff process. But more recently, computer technology has offered an estimating solution to be completely digital.
Today, robust construction software programs are abundant, including some explicitly designed for drywall estimating.
We'll look at the most well-known drywall estimating programs. But we begin by explaining the process and role of drywall estimating and how a software program can make a contractor's job easier.
---
The Commercial Drywall Contractors Estimating Process
To provide accurate bidding on a construction job, an accurate commercial drywall estimate is essential to the long-term finances of your company. If the estimate is too high, your customer pays more than necessary, which may get your business eliminated from future bids.
Too low, and there is no wiggle room for unexpected costs. In addition, an accurate cost estimate shows that you are knowledgeable in your field and will help you gain your client's trust.
That's where drywall estimating software comes in. It is a computer or cloud-based application that counts and measures the materials and labor needed for a drywall project.
It allows users such as drywall contractors and subcontractors to upload digital blueprints and extract (or "take off") the materials and quantities needed for a project. "Takeoff" refers to the counts, measures of square footage, linear footage, materials, and labor required for a construction project.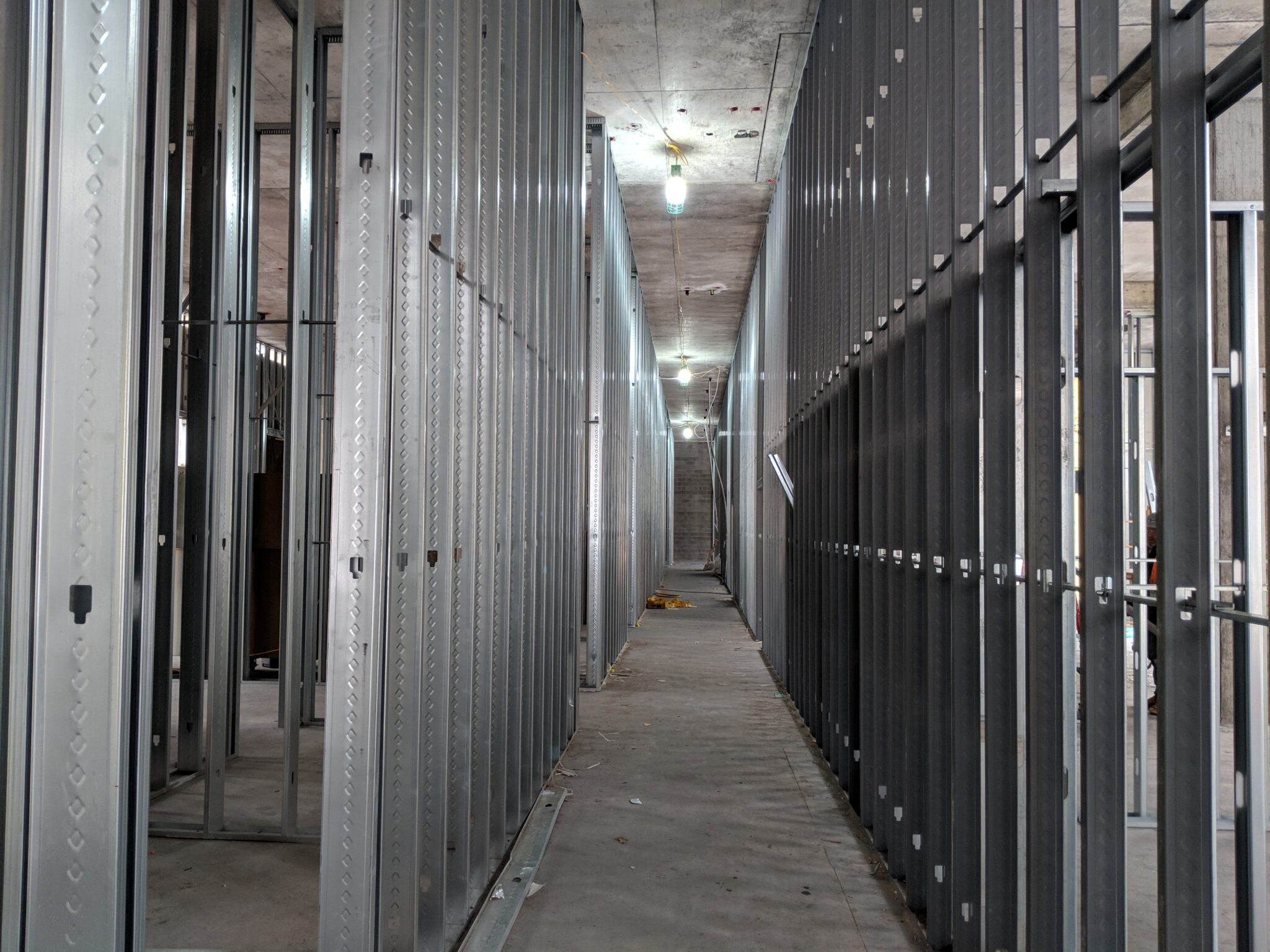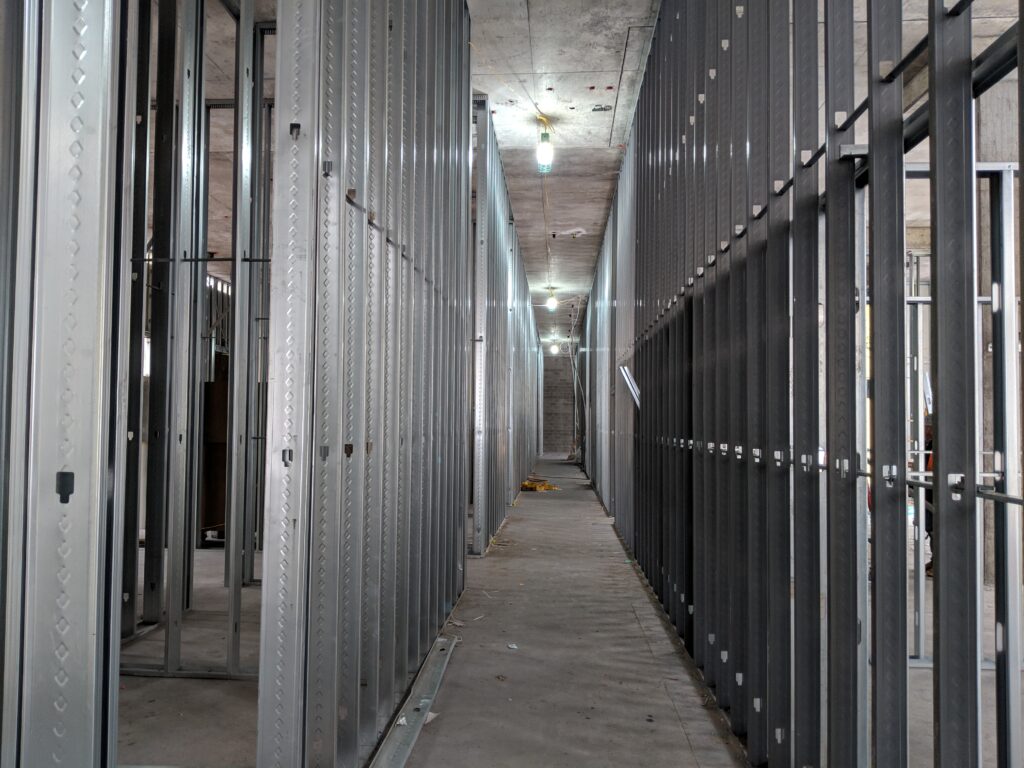 Drywall Estimating Software
Using this information, the drywall contractor can estimate costs and put together a bid. Drywall estimate software makes creating drywall takeoffs faster and more accurate than doing it manually.
Construction software helps business owners and independent drywall contractors create and send estimates easily while managing daily operations. It keeps construction projects running on track by calculating bid information and storing it as the project progresses.
Users can create, send, and track estimates from a single place and duplicate them with just a few clicks.
Here are a few benefits of using drywall estimating software:
Protects against errors that could occur during a manual process.
Complete more estimates in less time with efficient software rather than manual counting.
After the project is won, project managers can track job costing, material orders, labor production, and the overall financial performance of each project based on the original bid.
Builds flexible quotes with optional add-ons, packages, and images
---
The Best Drywall Estimating Software
We looked at some of the popular drywall estimating software available. All of the products reviewed here have websites that offer a range of support options, including support chat, webinars/training, tutorial videos, and user guides.
A few also offer a free 14-day trial period. Here are the software features and highlights from each estimating program we discovered.
---
#1 – On Center Software
On Center Software has provided construction automation management (CAM) solutions for over 30 years. The first in the industry to offer the best-in-class solutions for takeoff and estimating, it designed a patented approach to project management that encompasses the end-to-end construction process.
This drywall estimating software allows users to easily auto-count the same shape and size objects with its Optical Character Recognition (OCR) and to take off multiple floors simultaneously.
It easily compares two versions of a drawing in OST, with deleted red items and added blue items. It automatically replicates quantities across all affected areas for fewer manual-count errors.
Its wall and ceiling program avoids the missteps you might make manually with the following processes:
On-Screen Takeoff (OST)
OST is the quantity takeoff program. It compiles all quantities of walls and ceilings and organizes conditions in several customizable ways.
OST also can share electronic plans between the office and the field and save takeoff calculations for quick access to incoming change orders. It eliminates manual errors and rework, saving the company time and money.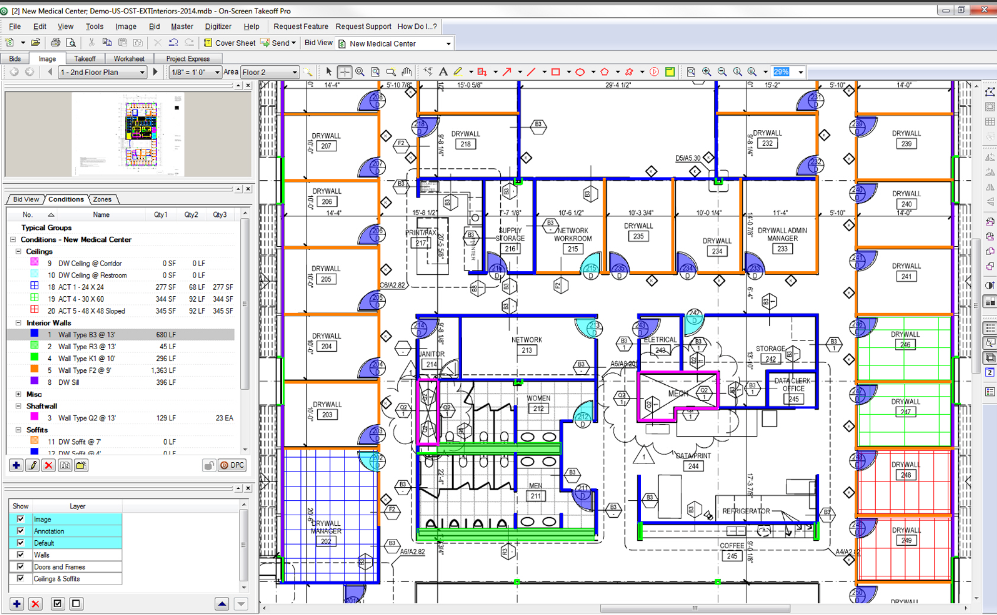 QuickBid
The QuickBid program generates a detailed bid quickly, streamlining the estimating process by automating many functions.
It provides detailed material lists, pricing for drywall, studs, ceiling, and taping mud, and information about labor time and production rates. Its finished bid allows users to manage labor burden and add markups like overhead and profit.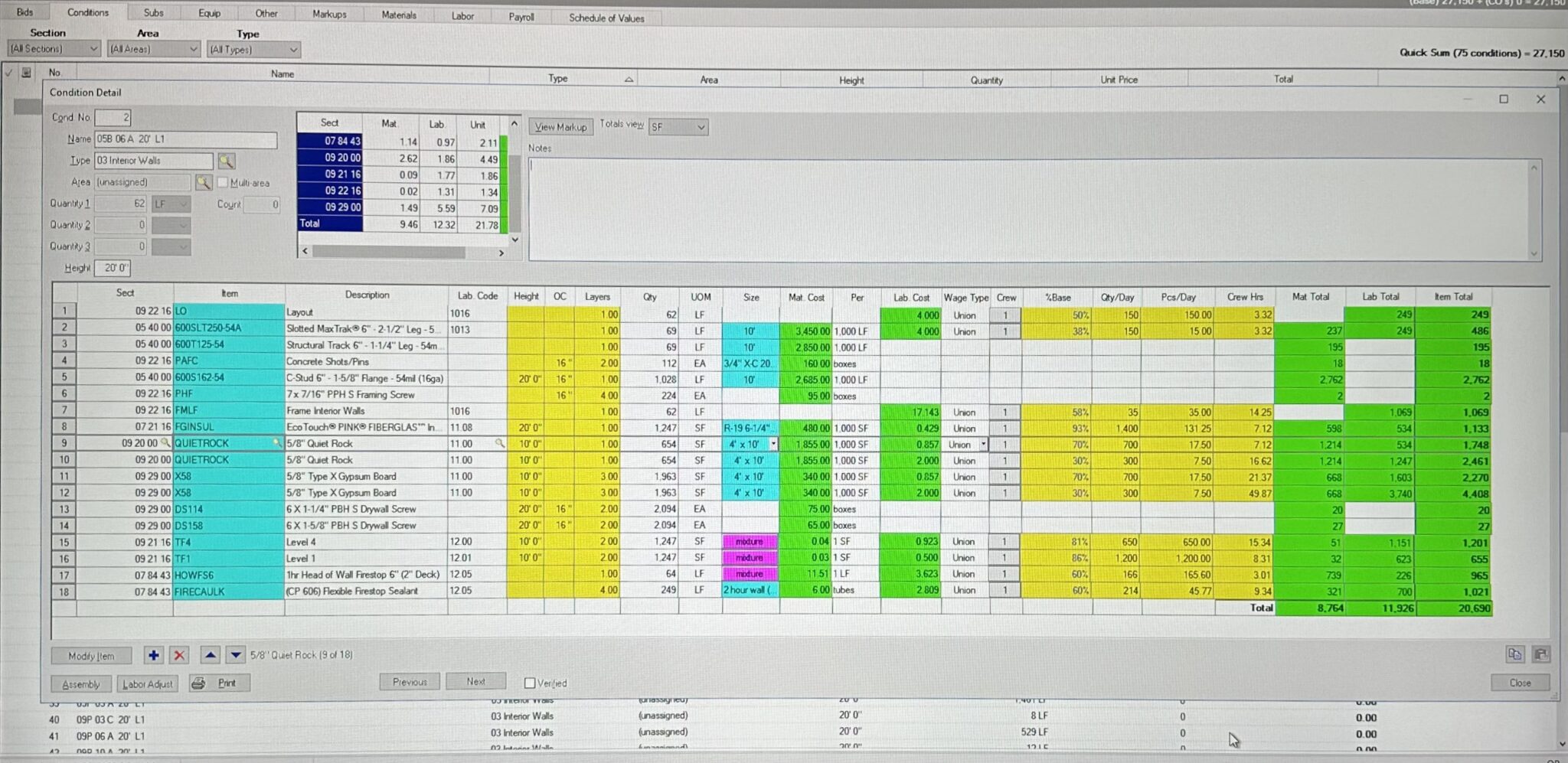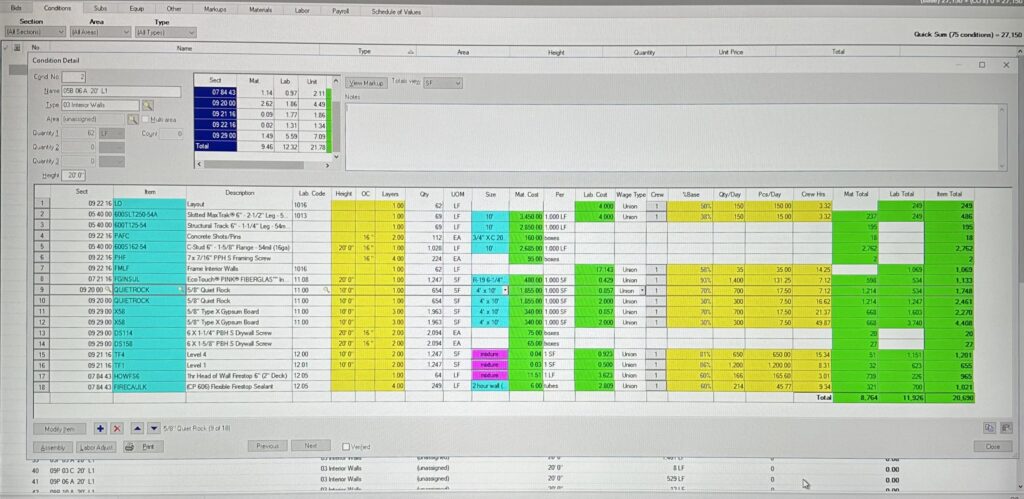 QuickBid has been used by drywall estimators since its beginning, but they also offer databases in other trades including roofing, acoustical ceilings, flooring, and several others.
Digital Production Control
"DPC" allows customers to track labor efficiency and the percentage completed of work on-site. It also helps them narrow the gap between how much estimated drywall crews can install and what they can do in the field.
On Center Software – Free 14-Day Trial
---
#2 – PlanSwift
PlanSwift is a provider of cutting-edge tools for takeoff and estimating. In 2018, it joined ConstructConnect, a market leader in North America's preconstruction project data and software.
ConstructConnect features one of the largest networks, robust project data, and 1.1 million registered users. It claims to be the industry's leading takeoff and estimating software company.
The general estimating program can be easily customized for a specific trade, including drywall and framing.
The program lets you know exactly how much drywall, joint compound, screws, corner bead, and anything else you'll need for your takeoff.
It allows users to instantly measure perimeters and surface area, even if there are irregular surfaces and unusual curves, providing accurate results in seconds.
Planswift Drywall Estimating Software – Free Trial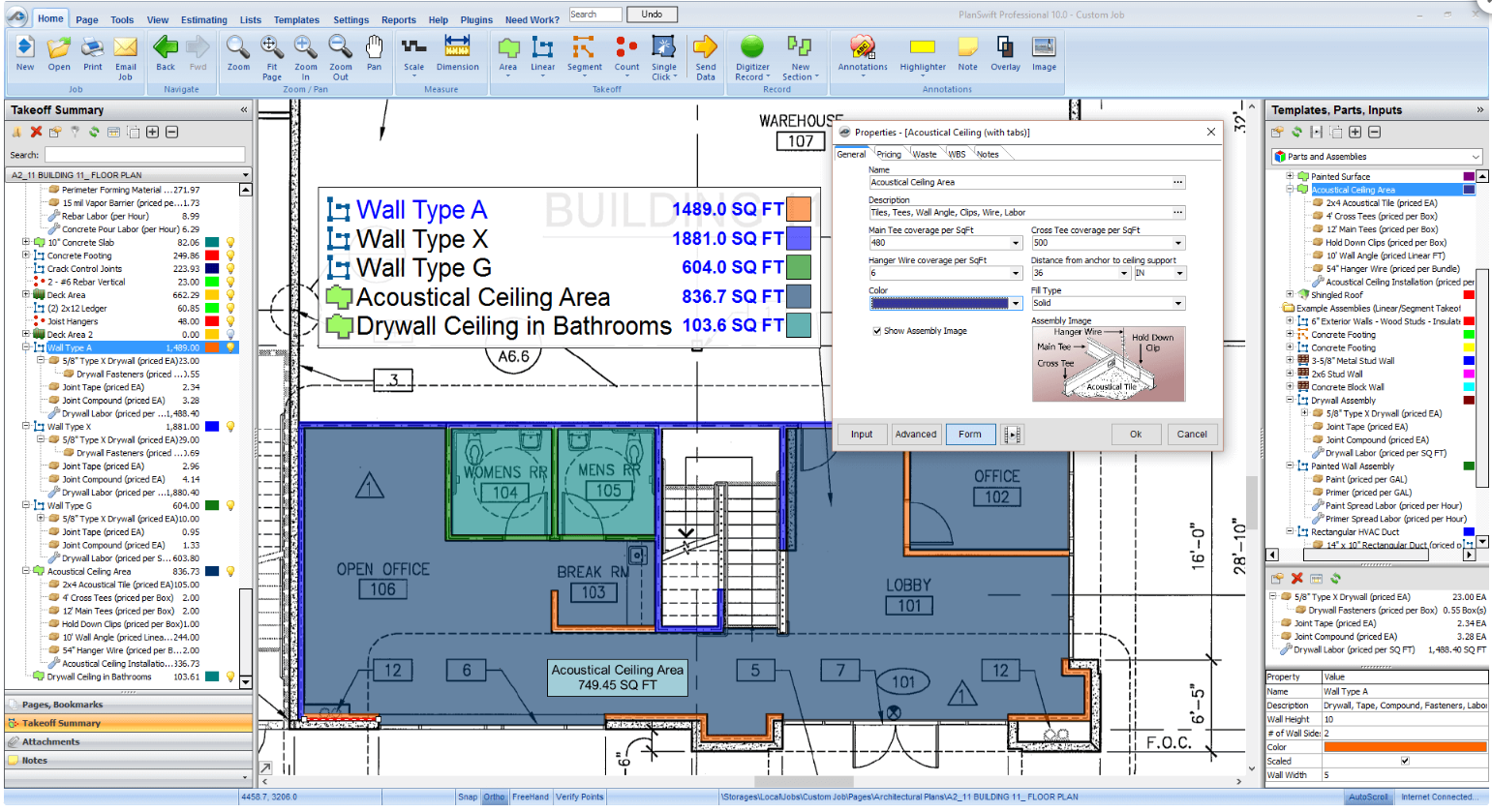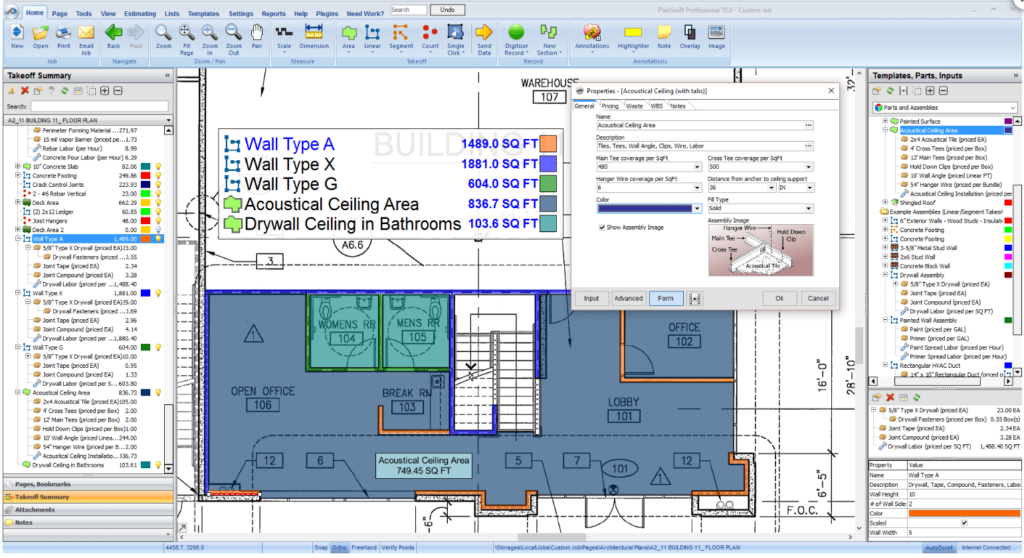 ---
#3 – Estimating Edge
Estimating Edge was recently acquired by Foundation Software, America's #1 construction accounting software, offering general contractors a complete solution for their field and office needs.
Users can sync their FOUNDATION accounting with The Edge Estimator or TakeoffHQ to help them streamline their construction processes, resulting in the best all-in-one platform on the market.
The EDGE is a fully integrated commercial drywall takeoff and estimating software. This all-in-one solution is easy for estimators but detailed enough for even the most complex jobs. Its construction jobsite project management app extends the power of the EDGE into the field, allowing teams to track production progress in real-time.
It is designed for all interior finish contractors to make drywall estimating as quick and efficient as possible. Its integrated drywall takeoff and estimating software is customized specifically for the drywall trades, making ceiling and wall estimating on every job as accurate as possible.
Unlike many of its competitors' software programs, the Edge is designed specifically for the drywall trade. The software is completely customizable to how a business operates and includes systems for rated and non-rated sheetrock walls.
It also has a Smart Labor feature, allowing users to vary labor rates based on their set parameters.
Estimating EDGE – Schedule a Demo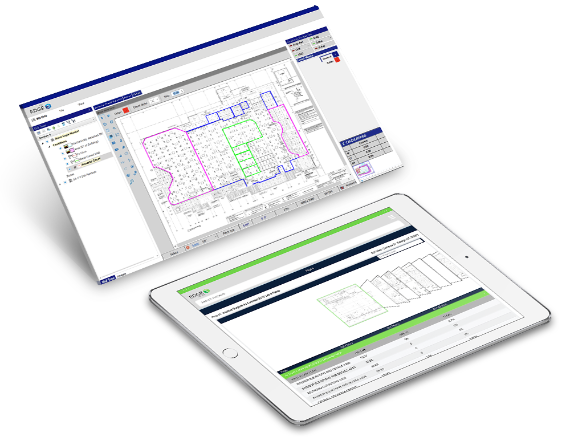 ---
#4 – Square Takeoff
Founded in 2015, Square Takeoff, Inc. is a construction software company specializing in automating the construction takeoff, estimating, and bid management process in the cloud for the commercial and residential construction industry.
Its flagship product Square Takeoff™ is a Software-As-A-Service (SAAS) product designed to let users take off and estimate on any desktop or mobile device.
This program provides material, labor, and equipment estimates which can be exported to Excel.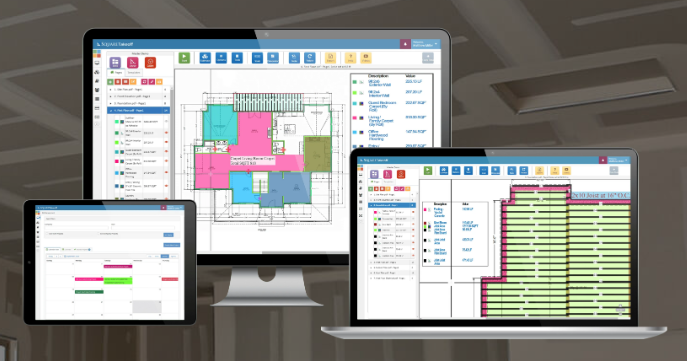 ---
#5 – Kreo
Kreo is another company offering drywall estimating software for contractors and estimators, bringing advanced automation to workflow.
Users can access the program's ready-made cost templates for drywall takeoff or create their own.
Its Auto Measure function eliminates the need for manual counting and measuring, helping customers measure and identify areas on a floor plan and count individual items, such as doors and windows, without drawing a single line.
Kreo Drywall Estimating Software – Free Trial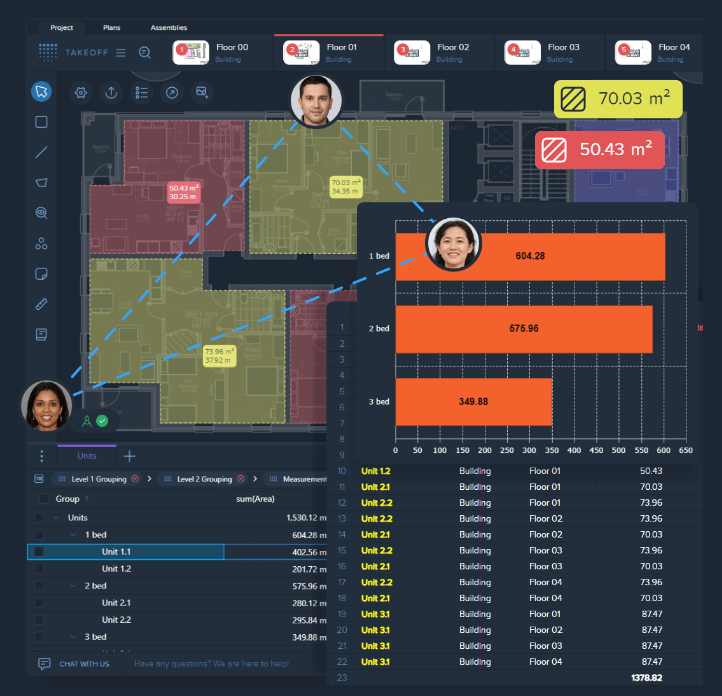 ---
#6 – Joist Software
Joist provides a mobile and web platform for estimating, invoicing, recording, processing payments, and managing projects from anywhere. It also offers payment and financing tools so customers can pay their invoices online.
Joist provides customers peace of mind and credibility through intuitive and professional customer management features. A few other highlights of the software include:
Sends links to branded documents through Joist's homeowner portal.
Enables customers to approve and sign estimates and invoices in real-time.
Keeps track of construction proposals.
Attaches job site photos and important files to invoices and estimates.
Sends reminders to customers about outstanding approvals or invoices.
Joist Drywall Estimating Software – Get Started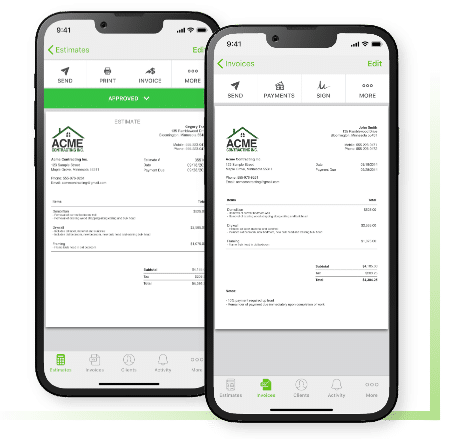 ---
#7 – ConX Measure
Established in 2014, ConX is a Saas platform offering simple, affordable estimating and tender management tools built specifically for builders and subcontractors.
It provides Smart Quoting, which can store contact, inventory, and pricing information, which converts takeoffs into quotes in one click. The website offers a free demo.
ConX Measure Drywall Estimating Software – Free Demo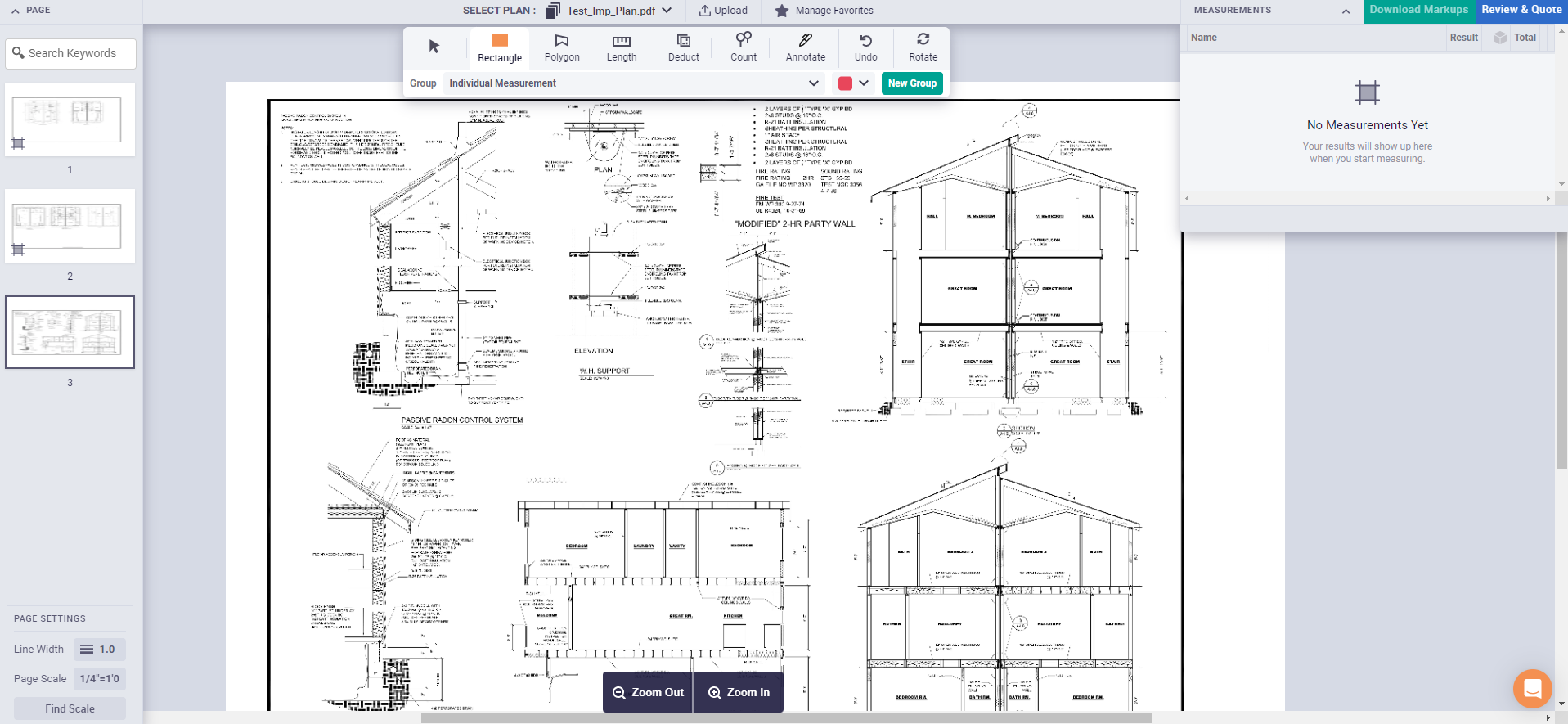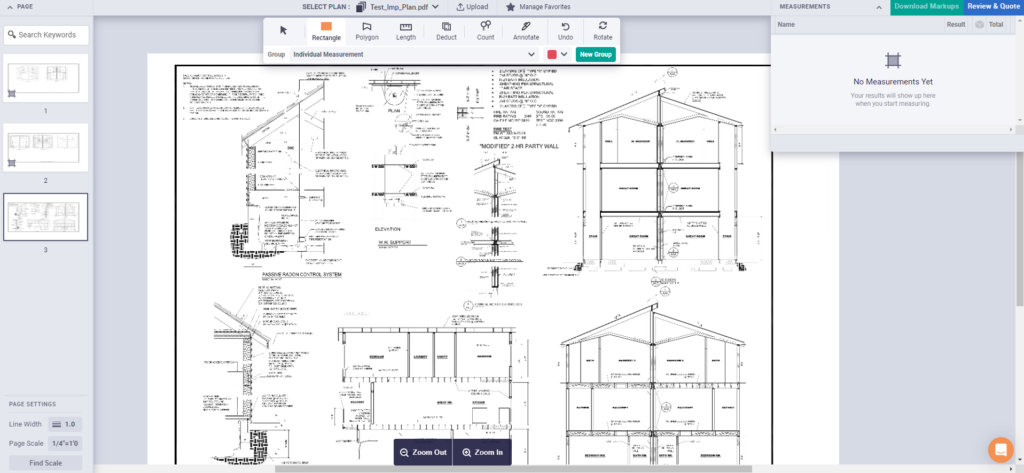 ---
#8 – Stack
Stack, formerly known as Cloud Takeoff, bills it's estimating software as "the best cloud-based estimating software for drywall contractors." It offers accuracy through its detailed cost estimating, which includes the following:
Bill of materials for supply orders from pre-built or custom libraries
Customized estimates showing labor, materials, non-measured costs, and markup
The ability to filter by plan, cost type, or other labels
Generate reports with a variety of different data points
Customized client quotes and proposals
Stack Estimating Software – Free Demo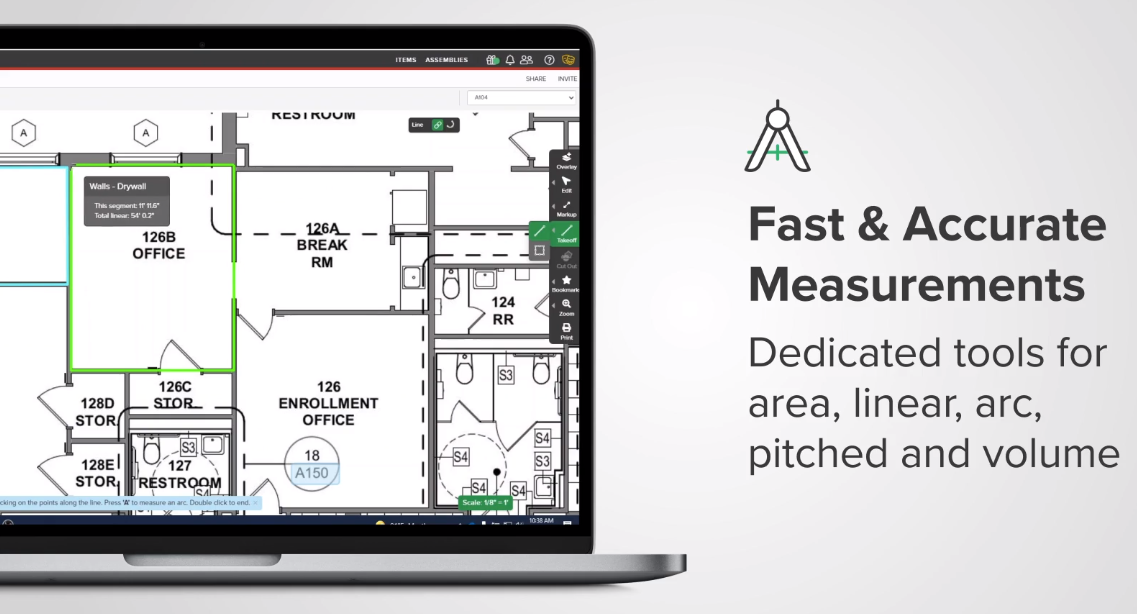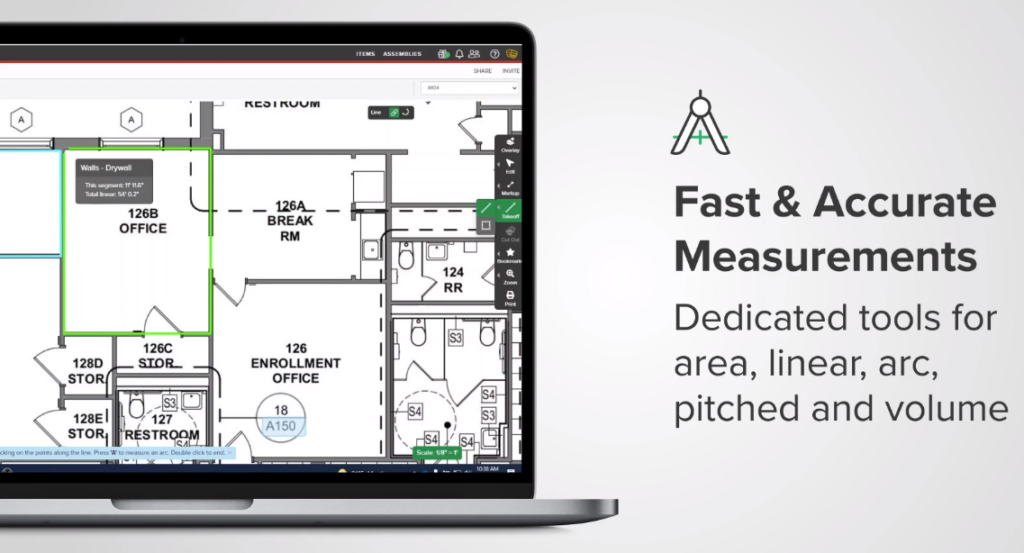 ---
#9 – eTakeoff
An early pioneer in quantity takeoff software, eTakeoff continues to innovate and evolve the craft. The latest iteration of its flagship product, eTakeoff Dimension, uses artificial intelligence (AI) to anticipate estimators' moves.
In doing so, SnapAI attempts to cut takeoff time while ensuring a high degree of accuracy.
It offers three versions of its software, so clients don't have to pay for features they don't need: basic, advanced, and premier, allowing users to mix and match based on their specific needs.
ETakeoff has the most comprehensive website of all the companies offering drywall estimating software.
eTakeoff Framing & Drywall Estimating Software – Free Trial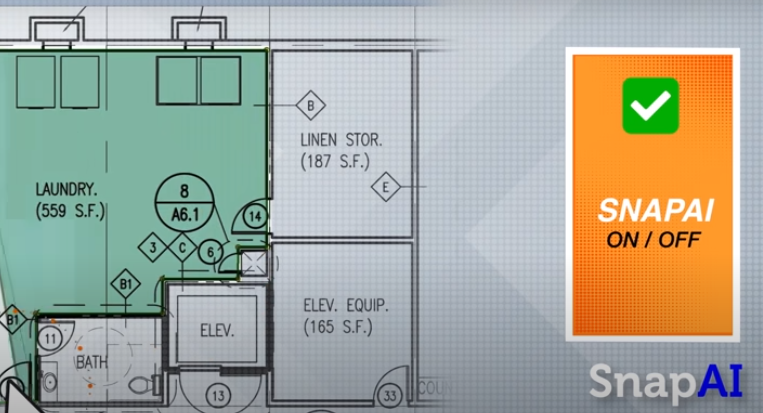 ---
Drywall Estimating Software
With this information, you can discover how drywall estimating software can help you generate takeoffs accurately and quickly, so you can win more business and spend your time doing what needs to be done to manage and grow your company.
With accurate and timely drywall estimates, your company can become the preferred partner for the next great construction projects.
---