---
Drywall stilts remain one of the greatest inventions in the history of the world. Do you disagree with that statement? Then you've never used drywall stilts.
If you have used stilts, you understand them to be one of your prized possessions. Anyone who's tried to complete a drywall taping job without stilts will never make that mistake again. In drywall, stilts are priceless.
Drywall stilts have been around for a long time. And technology continues to deliver new and improved designs making them lighter, more comfortable, easy to use, and more affordable than ever.
Best Drywall Stilts
Flexible, lightweight, and durable drywall stilts are widely available, but what are the very best drywall stilts for your money?
What factors should I consider before purchasing stilts?
Here are a few factors to consider when choosing your next pair of stilts.
Stilt Materials –
Stilts are commonly made from stainless steel, magnesium, and aluminum.
While stainless steel is the strongest material, it's also heavier than magnesium or aluminum drywall stilts.
Aluminum stilts are the most common and relatively lightweight. Magnesium sheetrock stilts are very lightweight, but not as durable.
Footplate –
Comfort is important for a long working day on stilts. Some stilts feature a heel bracket that can be adjusted for foot size.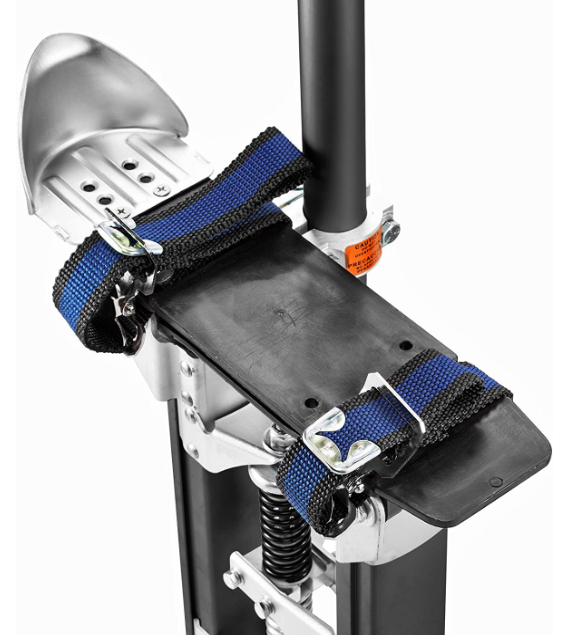 Comfortable foot and leg straps will make the difference after a hard day's work and will help with stability all day long.
Some stilts include extra-wide padded calf braces and supports for added stability.
Safety –
Safety is always the number one factor for any construction project. There are thousands of injuries every year from construction falls.
Torn muscles, bruises, strained ligaments, and bone fractures are common stilt injuries.
Non-slip rubber feet that grip floors with textured soles are a priority.
Stilts with an adjustable leg band, locking straps, and a footplate make it easier to move around job site obstacles and avoid falls and injuries.
Tool-Free Adjustment –
What's worse than carrying a bag of tools around to adjust your drywall hanging equipment. Buy stilts with easy, quick adjustments and no tools required.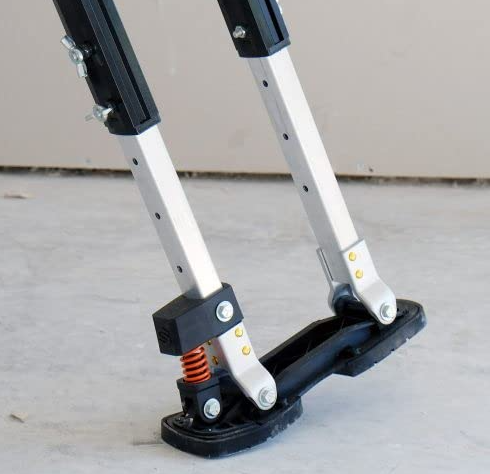 Height-Extension Range –
There are short, standard, and tall drywall stilts. For small residential projects, short stilts usually work, extending 12 to 24 inches.
Standard stilts extend 24 to 48 inches, while tall stilts are common on commercial job sites.
Weight Capacity –
Stainless steel stilts usually support the greatest amount of weight, since they are usually the most durable.
Aluminum stilts commonly have a weight capacity of 220 to 240 pounds.
Magnesium drywall stilts are better for lightweight users, supporting 200 to 230 pounds.
Top Picks for Drywall Stilts
GypTool Pro 48" Drywall Stilts – $180
GypTool Pro 15" – 23" Drywall Stilts – $150
Pentagon Tool Professional 24" – 40" Drywall Stilts – $140
Yescom 24" – 40" Professional Grade Adjustable Stilts – $205
Warner Strap-N-Stride Stilts 24" – 40" – $315
Metaltech 24" – 40" Adjustable Aluminum Stilts – $345
Metaltech BuildMan Grade – $350
ToolPro Magnesium 48" – 64" Drywall Stilts – $480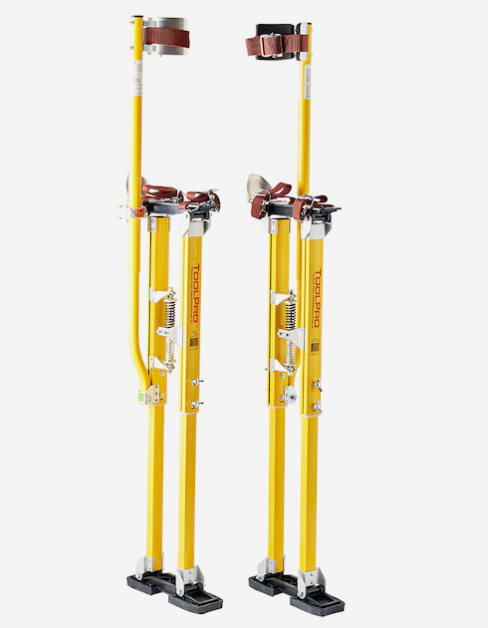 ---

Adjustable Stilts for Drywall, Sheetrock, and Taping
If you find a good drywall taper, chances are you will find a pair of stilts not far away.
Sometimes it can be smart to upgrade or replace a worn-out pair of stilts.
As much as you might dread the idea of tossing aside that pair you've had since the 1980s that were passed down to you, consider a new pair.
Pentagon Tools makes a great pair of stilts. There are dozens of quality brands out there if you're considering replacing an old pair of stilts.
Drywall Stilt Brands
Checkout Yescom, SurPro, GypTool, Dura-Stilts, and Blackhorse.
The Pentagon stilts come with an adjustable heel plate, a comfort strap for legs, and foot straps with self-locking metal buckles.
Wing bolt design for effortless adjustment without a tool.
Incredibly lightweight and strong, with a weight capacity of 228 pounds, rubber sole grips for slip prevention, and a one-year warranty.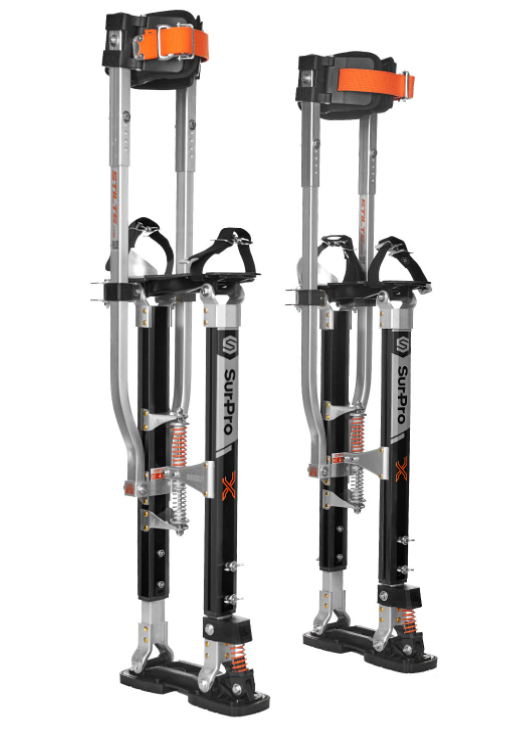 Tips for Wearing Drywall Stilts
Always clear the room before wearing drywall stilts. Floor rugs, loose carpeting, power cords, wires, trash bags, and any other furniture should be completely removed from the work area.
Ensure there is proper job site lighting before wearing drywall stilts. You can't avoid an obstacle that you can't see. Extension cords attached to temporary lighting are also a tripping hazard on stilts.
Be sure to adjust your stilts to the proper height before beginning work. Drop ceilings and sheetrock soffits can become hazards if your adjustable drywall stilts are set too high.
Before walking, tighten the calf strap first. Falling off stilts with only the ankle strap tightened could result in a serious foot injury.
Practice at the lowest adjustable height to get comfortable with your new stilts.
Inspect your stilts every time you are preparing to wear them. It's critical to detect loose screws, missing clamps, and worn straps before starting your stilt project. Replacement parts are affordable and readily available. Never use stilts with missing parts or pieces.
---
The TapeTech Taping Tool Bundle
For beginners looking for a do-it-yourself package with all the taping drywall tools you might need, look no further than the TapeTech taping bundle including stilts.
Complete with everything you might need for your next sheetrock, taping, and sanding home improvement adventure.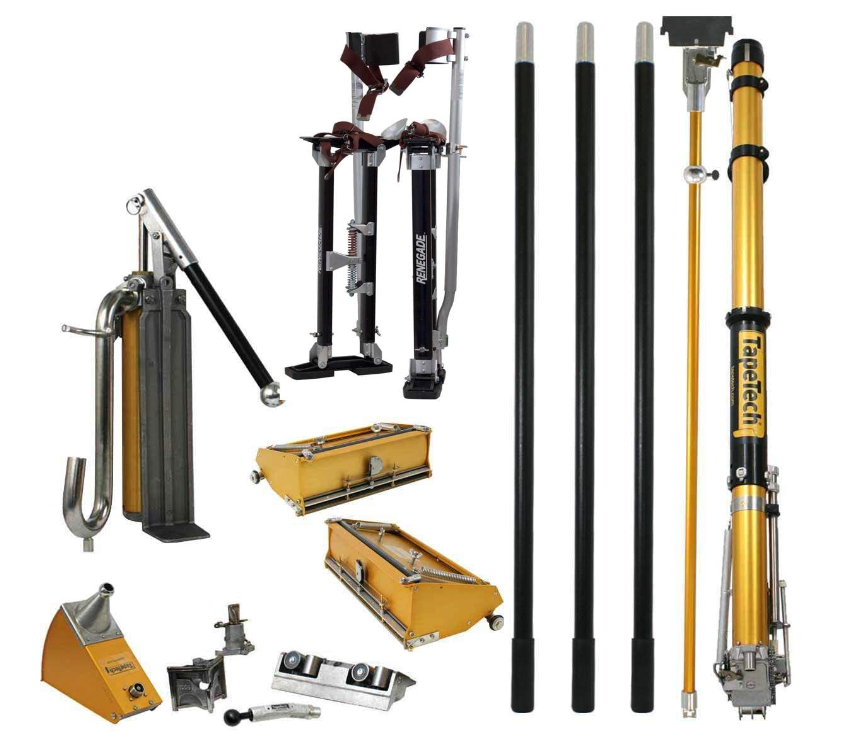 So the next time you're thinking about building scaffolding, an elevated stage, or a platform, consider if stilts might get the job done instead.
And stilts are not just for hanging ceilings, they can be used to sheetrock drywall walls. Removing popcorn ceiling texture? Stilts are your answer. And it doesn't stop with drywall hanging or repairs, stilts are even used for lath and plaster, or even painting.
---
Drywall Stilts – The Greatest Invention in the World
Archaeological texts show the use of stilts in ancient Greece dating back to the 6th century BCE.
The origin of the word is from "stick," "crutch" or "a limb, base, or pedestal." It wasn't just the Greeks who enjoyed stilts.
Traditions are found throughout history for many different uses; in Belgium, stilt walkers trained in fighting on stilts.
History of Stilts
For marshy regions, workers used stilts to work in swamps and rivers. Historians found that in Southern France, shepherds kept a view over their flocks standing on stilts.
Drywallers forget about other industries using stilts every day. And they are not just found in the circus.
Fruit farmers find that it's much easier to harvest peaches, apricots, and plums when you have stilts around.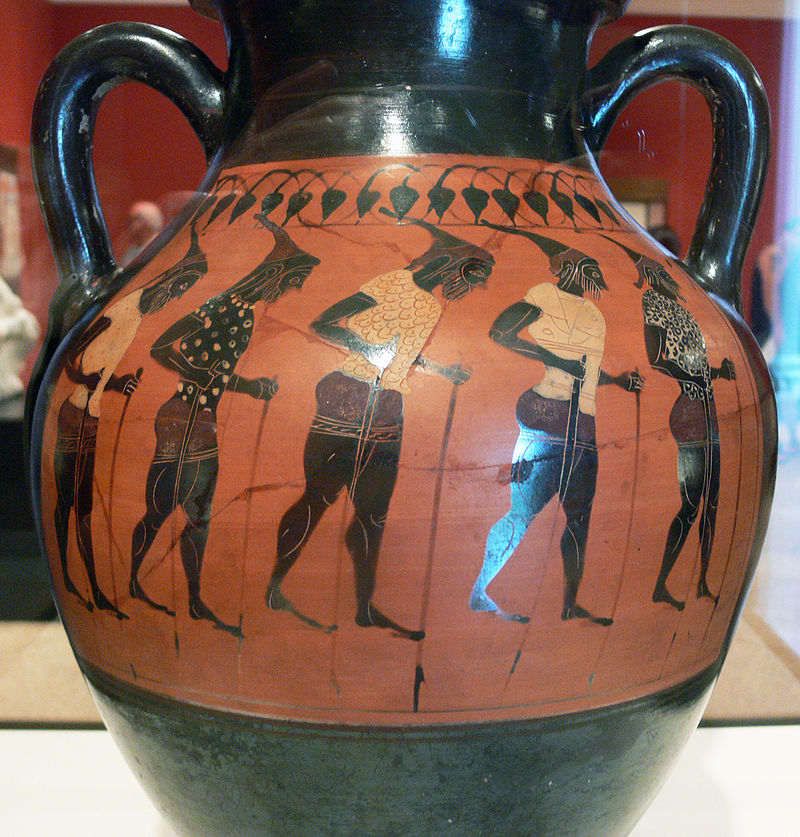 ---
If you think stilts were only used for work back in the day, you would be wrong.
Even to this day, they are still being used in festivals, street events, and parades.
Stilt Walking Records
There are even world records kept for the longest distance walking on stilts. In 1891, someone walked from France to Moscow in 58 days. What was he wearing? You guessed it. Stilts.
Not to be outdone, Ashrita Furman decided to break a world record in the one-mile run, completing it in 7 minutes 13 seconds.
Oh yeah, he did it wearing stilts. But probably carrying no tools, sheetrock, or saws.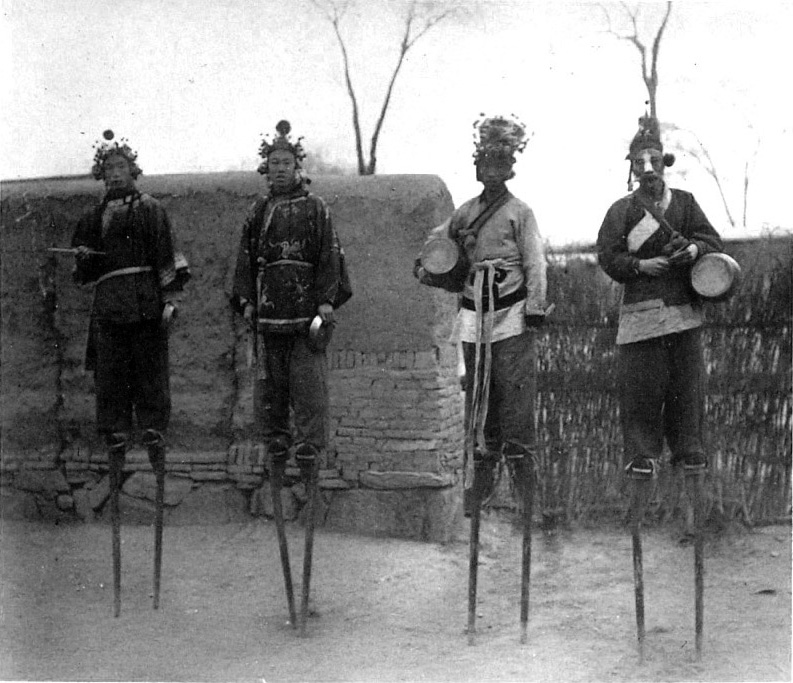 ---
Drywall Stilts For Everyone
As far as I know, OSHA does not prohibit the use of stilts on job sites.
But there are other governing bodies that do prohibit their use. And jobsite-specific regulations may ban the use of stilts.
Rolling scaffolds, ladders, scissor lifts, and stilts are all safe methods of reaching work areas off the ground if used correctly.
Drywall Stilt Safety
Even simple hand and power tools can be dangerous or deadly if not treated properly, stilts are no different. Safety should always be the first priority.
The stilts remain one of the most invaluable pieces of equipment for hanging and taping drywall. A good pair will last many years.
And when it's time to replace the old set, you will be pleasantly surprised with the selection of new products and the modest price tag of great performing stilts on the market today.