---
Light gauge steel studs don't get much respect. But they are a crucial element to almost every major commercial project. And lately, they are becoming more common in residential buildings as well.
Understand the basics, and the numerous benefits of light gauge steel studs to be ready for your next project.
Regardless of whether you're in residential or commercial construction, chances are you've seen light gauge steel studs before.
As metal studs become more and more popular throughout various construction applications, learning more about light gauge studs, and where to use them can make your next project a success.
What Are Light Gauge Steel Studs?
Light gauge steel studs are used for non load-bearing walls made of cold-formed steel.
Unlike cold-formed steel framing and structural studs, which are much thicker and much heavier, light gauge steel studs are much lighter but compare nicely to wood wall studs.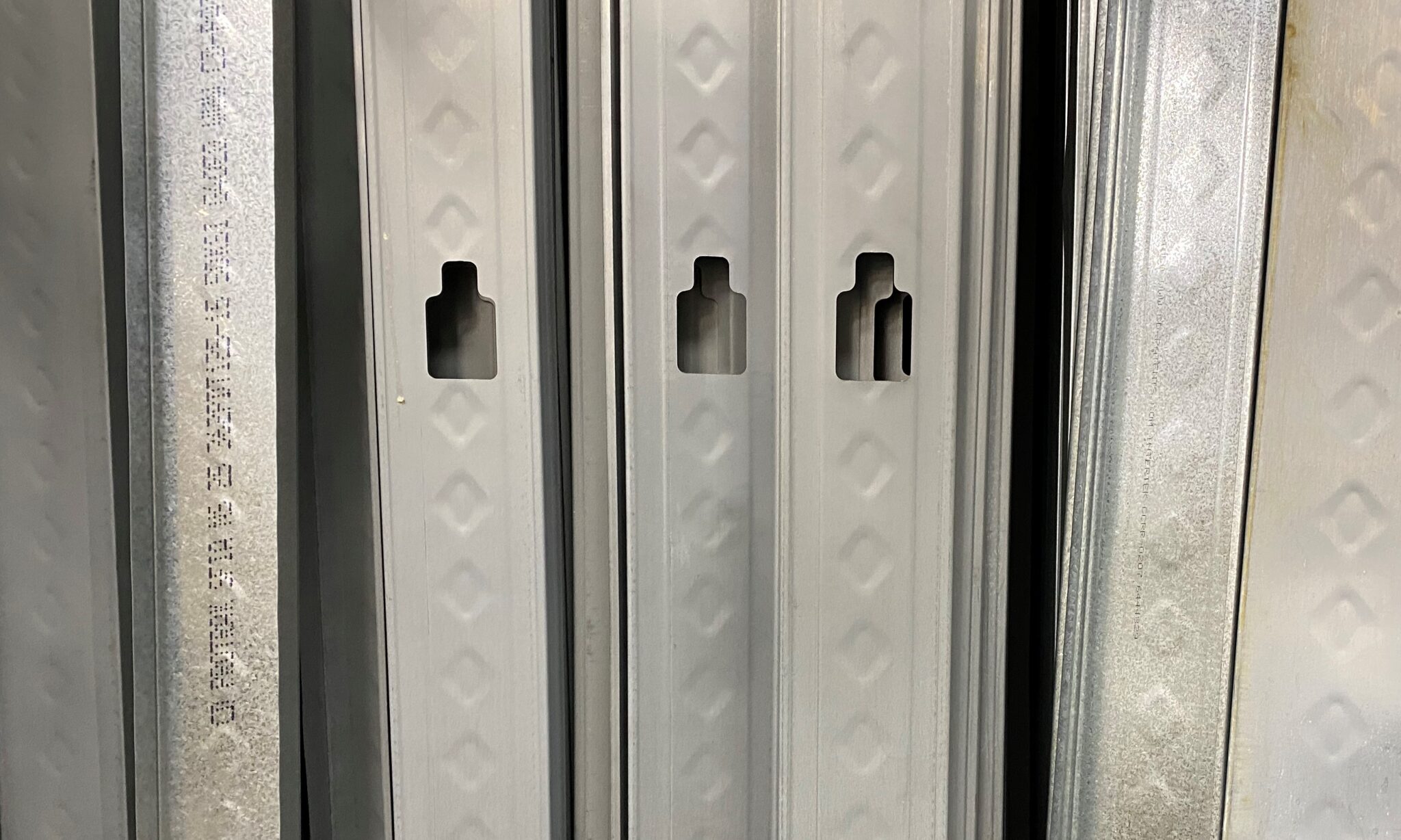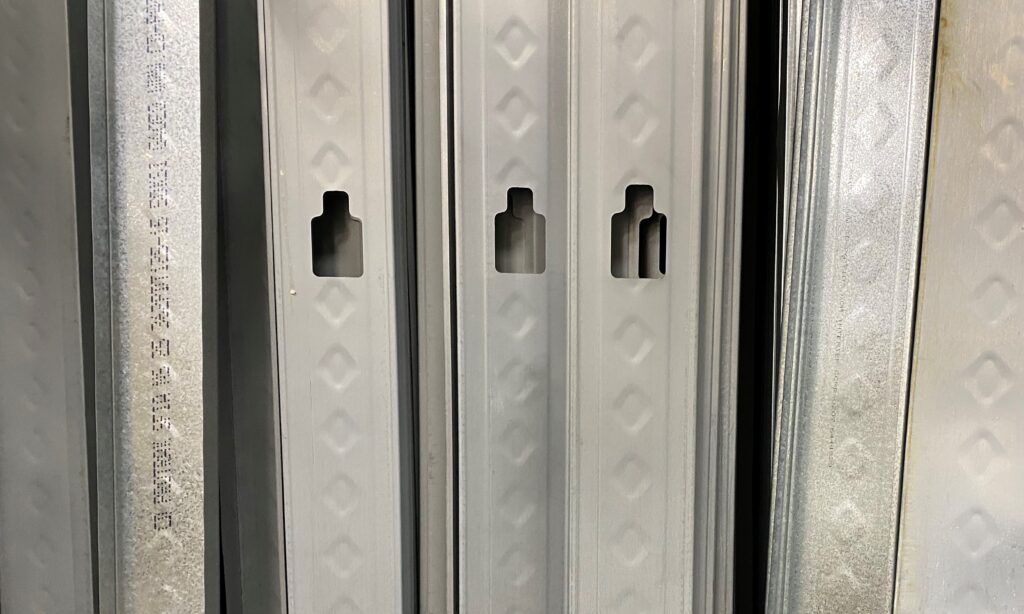 Structural studs carry axial load for load-bearing applications like ceilings, floor joists, roof trusses, exterior walls, and curtain wall applications.
Light gauge steel studs aren't fit for load-bearing partitions.
Instead, they're made to carry dead loads such as interior wall systems, soffits, corridor ceilings, and finishes like plaster or gypsum wallboard.
---
Types of Light Gauge Steel Studs
Light gauge steel studs come in various widths and thicknesses depending on the drywall framing in the building design.
Typically, light-gauge steel studs will be 25 or 20-gauge material. There are a few different types of light gauge steel material and products, each with its own specific use:
Light Gauge Steel Studs
Vertical members where wallboard and drywall is fastened. Light gauge steel studs are attached at the bottom track and top track with screws.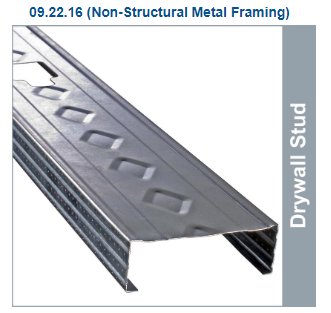 ---
Light Gauge Steel Track
Bottom and top track are installed horizontally along the floor and underside of the structure.
Light gauge steel track material typically matches the thickness of the studs they support. For example, a wall partition with 20 gauge studs would also include 20 gauge bottom and top track in most cases.
There's a variety of light gauge steel track products, depending on the application. A few common types of top track include 2″ deep leg track, slotted deflection track, and fire track.
Be sure to follow the architect's plans and specifications to ensure all building codes are being met.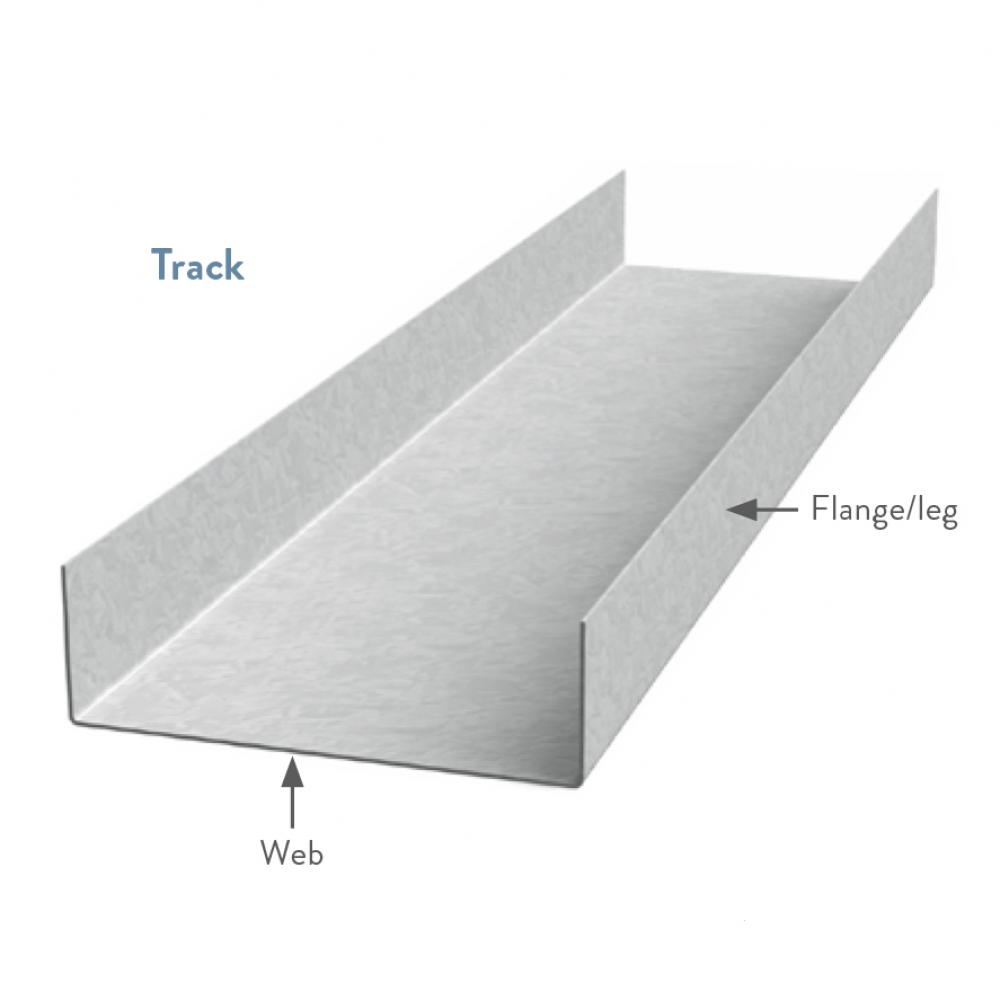 ---
Furring Channel
There are several light gauge furring channels and members. 7/8″ hat channel, 2 1/4″ hat channel, and "Z" furring are a few common types of furring.
Furring is typically used on concrete or CMU walls to secure material where laminating drywall directly to concrete is not desired.
Light Gauge Steel Studs and Track
Studs and tracks comprise the majority of light gauge steel used in an interior framing job.
Both components are measured and cut like wood studs, but light gauge steel can be cut with aviation snips and bent to shape.
Once tracks are fixed to the floors and ceiling, studs are slid and fixed into the steel tracks with framing screws.
L-Headers, furring channels, and U-channels aid in finishing frames. L-headers are ready-made 90° light gauge steel placed over the top tracks in a track system and fastened to the steel clips that hold the framing system in place.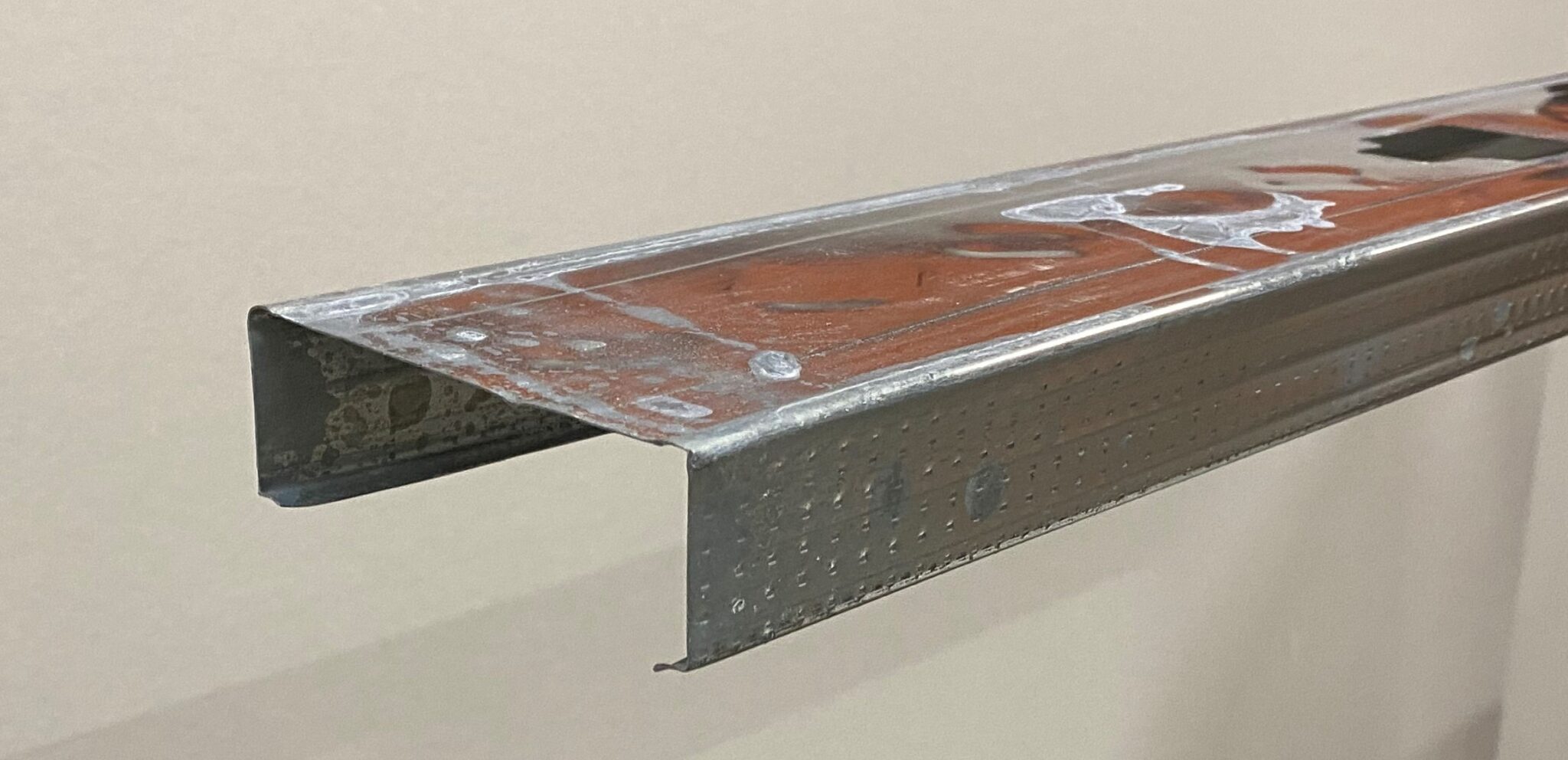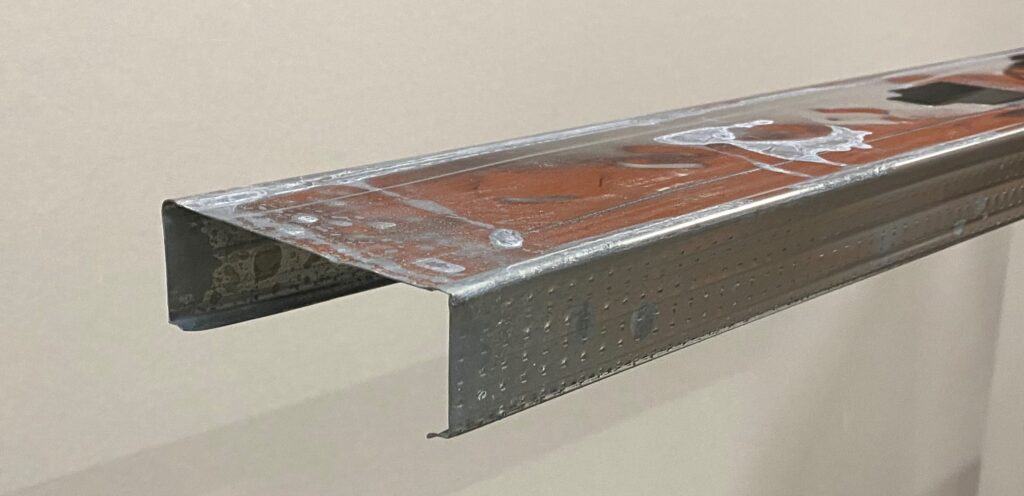 Furring Channels
Furring channels help level out walls and ceilings in the track system. U-channels provide clean finishes to metal and glass panels, trim on railings and tracks, and are used throughout commercial projects.
Light gauge steel studs and track are cold-formed, meaning they're produced by roll formers, large machines that press cold steel into the desired shapes for construction purposes.
Steel members come in a variety of different sizes.
Studs can be anywhere from 8'0" to 24′ in length – or longer, while tracks typically come in 10' lengths.
Studs and track have different gauges. Remember, the lower the gauge, the heavier and thicker the steel product.
Light gauge metal and steel studs are typically 25-gauge and 20-gauge steel which isn't suitable for load-bearing applications. Heavy gauge steel studs ranging from 33 mil structural studs, and 18 to 12 gauge material are designed to handle heavier weight.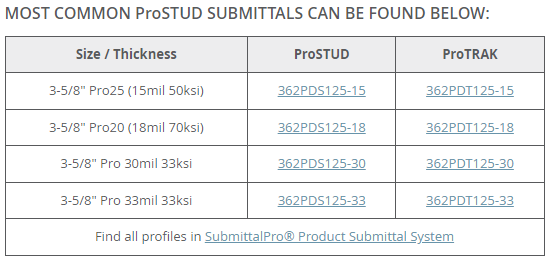 Where Light Gauge Steel Studs are Used
As mentioned above, light-gauge steel studs, and most metal studs, have historically seen their use limited to commercial buildings and commercial construction.
The invention of steel framing building techniques, along with massive structural steel, created the rise of the skyscraper and the modern city.
The convenience of roll-formed studs, which can come pressed and cut to the size you specify with holes punched for plumbing and electrical access, has led to light gauge steel framing becoming more popular.
More residential spaces are designed with light gauge steel studs than ever. However, it's most common to see metal studs in large construction projects in commercial construction.
Why Use Light Gauge Steel Studs
Light gauge steel studs will likely be more prevalent throughout all types of construction in the future.
The convenience of ready-made steel members is unmatched. And the versatility of light gauge steel studs for interior walls and ceilings has several benefits.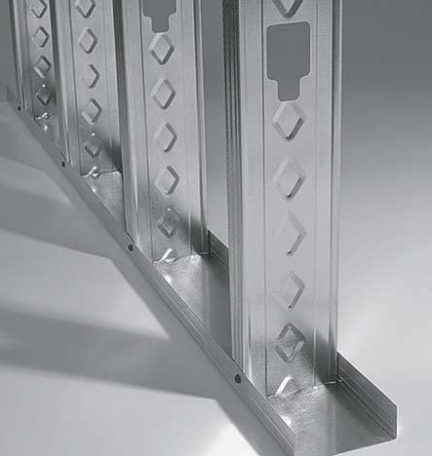 Benefits of Light Gauge Metal Framing Vs. Wood Stud Framing
Many skilled carpenters will agree that metal studs are often much easier to work with than wood studs.
While wood studs cannot be used in most commercial framing, it's still the primary choice for many residential contractors for small projects.
Strength and Stability
However, a wood stud wall is cumbersome and heavy. Solid wood is transported, measured, cut, and moved into place.
The price of quality lumber has been rising, and the volatility in lumber prices makes wood framing a risky endeavor for smaller contractors.
Between rising prices, lower supplies, and the fact that lumber has the potential to rot, twist, bend, and crack, steel framing products make sense as a great alternative.
Steel studs, tracks, and channels can be ordered in specific quantities with exact measurements from steel roll formers, creating less waste.
Once they arrive at a job site, most steel studs for wall framing fit together, so they're easily stackable.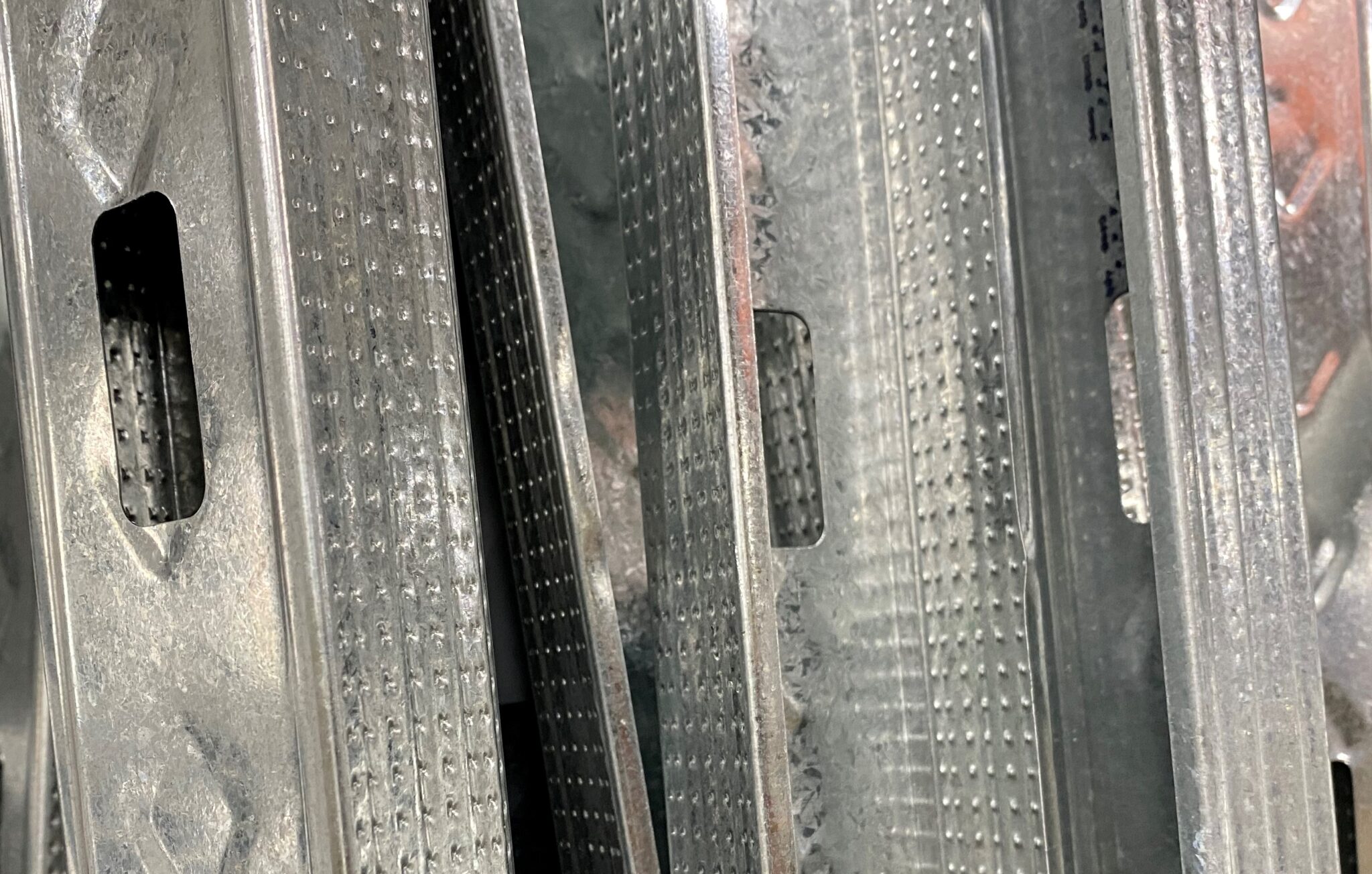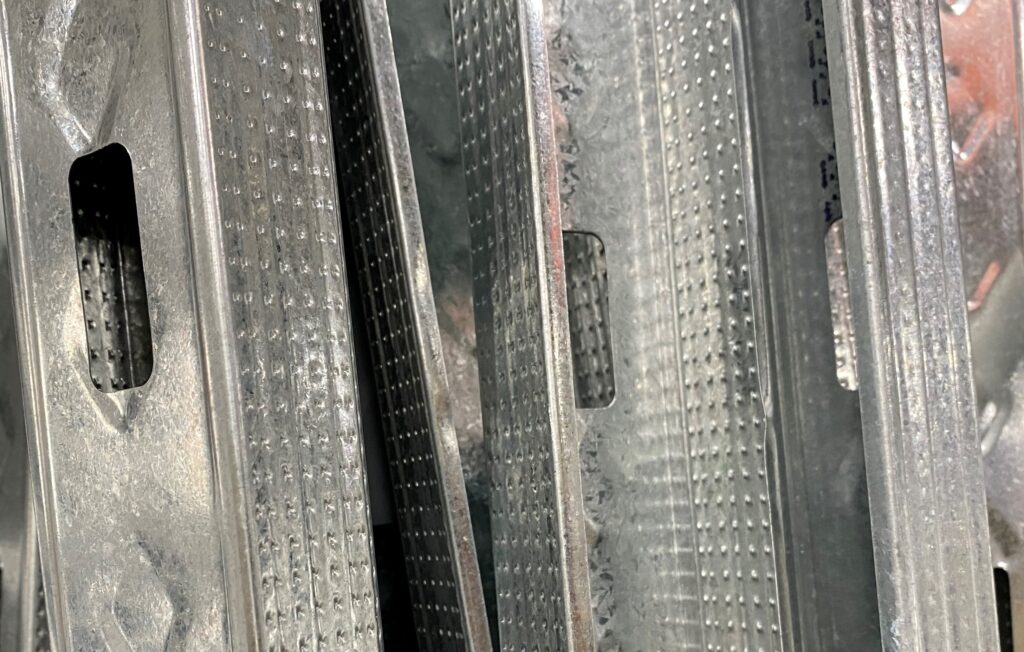 Won't Rot, Resists Mold, Termite Proof
Unlike wood, light gauge steel is dampproof and won't rot. Steel doesn't easily hold mold or harbor insects. It won't warp from water damage or burn up.
There is the potential for the steel to rust, but much of the steel used in construction has corrosion-resistant metal finishes to minimize the risks of rust.
Durability
Relative to its size, steel is stronger and can therefore support more weight than wood.
When using light gauge steel studs for interior framing, you can have wider stud spacing than lumber. For most gypsum wallboard partitions, wooden studs shouldn't be further than 16 inches apart.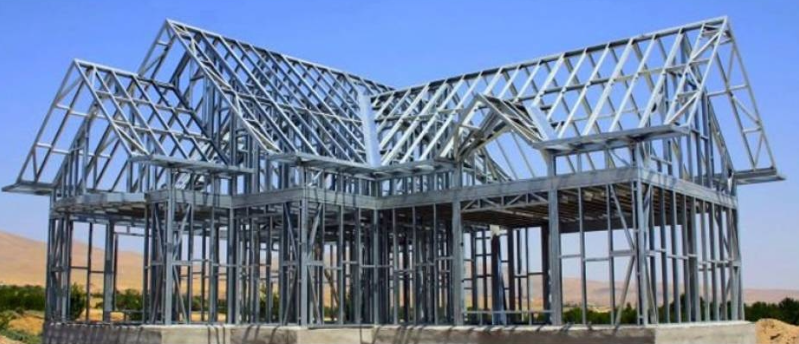 ---
In some cases, light gauge studs can be spaced as much as 24″ on center. The increased drywall gypsum panels-to-steel framing ratio helps mitigate sound transmission through wall partitions.
Light gauge steel studs also have lateral bracing and bridging for extra support and outstanding strength if the design requires it.
Environmentally Friendly
Metal stud framing is made with recycled material. As one of the most important factors to architects and building designers, environmentally friendly material is becoming an attractive feature in new construction projects.
Tips for Using Light Gauge Steel Studs
As with any construction job, light gauge steel studs can present a number of problems that are unique to metal studs.
The flange and ends of metal studs can be sharp, so it's best to wear heavy-duty gloves when cutting edges to size and handling any stud or track.
Why Are Light Gauge Steel Studs Pre-Punched?
Pre-punched steel studs assist in the install of bridging supports, plumbing, and electrical wiring. It's a convenient feature wood studs can't accommodate.
Light Gauge Steel Stud Manufacturers
There are several major manufacturers of light gauge steel studs. Many of them have developed their own specific products, but they are mostly comparable.
It's a great idea to familiarize yourself with the different product lines to avoid confusion when reading plans and specs. But generally, each manufacturer must follow specific guidelines set by ASTM testing methods.
There's even a handful of specialty manufacturers out there who supply products to be used in unique applications, such as radius conditions. Flexibility Concepts and Radius Track are a few that deliver custom-made light gauge steel studs curved to your specific project.
The Steel Network
MRI Steel Framing
Custom Stud
JN Linrose
Marino WARE
Clark Dietrich
The Steel Stud Manufacturers Association
Steel manufacturers have interests aligned through their association, where they can promote economical solutions to building contractors and provide quality steel products to the industry.
They also give full manufacturer support, commit to an industry standard, and guide specifications for sub-contractors.
---
READ more about other popular drywall products –
What You Need To Know About Ballistic Drywall
Green Board: The Basics Of Water-Resistant Drywall
DensShield Tile Backer For Your Next Project
---
Additional Resources –
An Introduction to Cold-Formed Steel Framing – Clark Dietrich
Light Gauge Metal Framing Design Guide – BuildSite.com
---