---
While pre-rock drywall may not be something you're familiar with, it's an important technical innovation with several benefits in the commercial drywall and construction industry. 
Traditionally, gypsum panels are installed after the roofing material is in place and the windows are installed.
This creates a dry building to begin installing drywall and then the remaining finishes, without water from a rainstorm damaging the interior building products, once the building's envelope has been sealed and "dried in."
Contractors and construction managers do this because gypsum boards are paper-lined and thus react poorly when exposed to the elements, specifically water.
Installing drywall in a dried-in building ensures they're protected from the elements. It also makes wallboard installation a hassle, attempting to connect them around piping penetrations and ducts like a puzzle.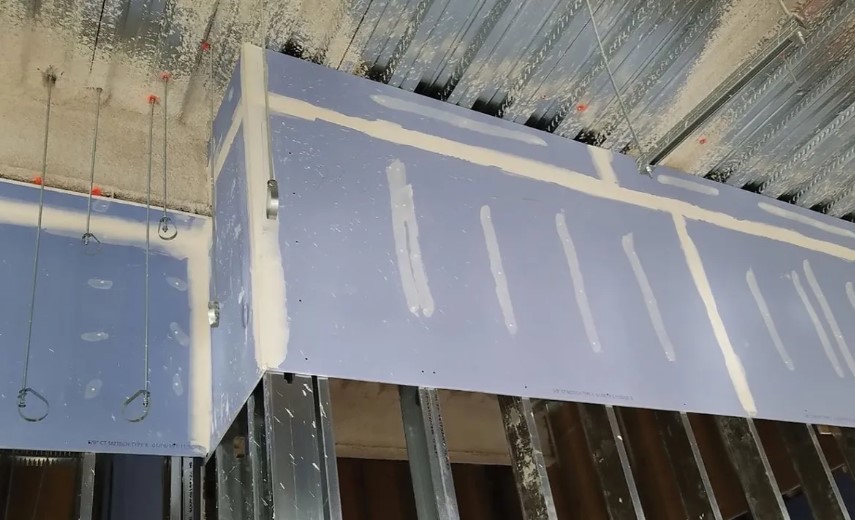 Pre-rock drywall allows contractors to install drywall before MEP installation and the building is dried-in. The new construction method uses moisture and mold-resistant gypsum panels specially designed to be exposed to the elements.
Pre-rocking provides a faster, more accessible alternative to traditional installation techniques.
As long as the drywall estimator accounted for the more expensive pre-rock drywall material and the building owner is willing to pay the premium, pre-rock is a win-win scenario.
---
Why Do We Pre-Rock Drywall?
While pre-rock drywall might seem like more risk than reward, installing drywall as early as possible into construction has many benefits.
1. Faster, Cleaner Drywall Install Before Mechanical Trades
In traditional construction, drywall installation happens after MEP rough-ins, metal framing, and windows are installed.
The result is that drywall panels often have to be puzzle-pieced into place, awkwardly fitting around ducts or piping.
While this ideally wouldn't cause any issues, having to work around other trades' work in construction can lead to drywall installation with gaps in quality and fire-resistance ratings.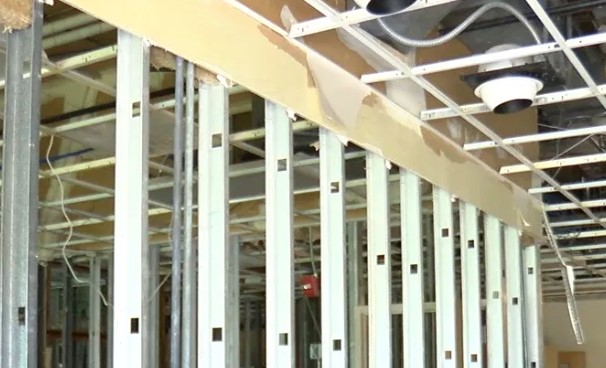 Pre-rock drywall gives drywall installation priority, meaning higher quality, more code-compliant gypsum paneling. Once pre-rock drywall is placed, other trades come in and cut precisely where needed, ensuring tighter fits and easier job site installation.
2. Speed Up The Construction Schedule
Perhaps the biggest benefit to pre-rock drywall hanging is to speed up the construction schedule.
By using moisture-resistant drywall, hanging can begin earlier in the construction process, before the roof is water-tight. The wall framing and MEP rough-in trades can also finish their work earlier.
It's a win for everyone involved, and several weeks or even months can be gained on the overall project schedule using the pre-rock drywall method. Building occupancy is established earlier, and owners and the end user benefit.
---
When to Pre Rock Drywall
Pre-rock can be done in nearly any construction project, so long as it doesn't go against local ordinances. It's commonly used in healthcare construction, where the schedule is vital to completing life-saving medical facilities.
ASTM C840 states drywall shall be kept dry and not exposed to the elements. But alternative high-performance gypsum wallboard products are available to meet all moisture exposure requirements.
The technique changes the sequencing of the building to move drywall up before the roofing material is installed and the structure is "dried in."
These moisture-resistant wallboards have a timeline for exposure to the elements, typically in the 12-month range.
As long as construction can wrap within the rated time for pre-rock gypsum panels, they're a convenient and quick installation method.
---
Top-Down Drywall Install
"Pre-dry-in construction" goes by a few names like "pre-rocking," "topping out," or "top-down construction."
Top-down drywall installation coordinates trades so metal framing is installed and drywall is attached to the plenum before the HVAC, electrical, and plumbing trades begin working.
While some construction managers may opt to install drywall to more wall studs and framing than just the plenum, the concept stays the same: risk exposing gypsum boards to the elements for quicker, easier, and safer installation and finishing for other trades.
---
Best Pre-Rock Drywall Products to Use
Choosing the right mold-resistant panel is essential because pre-rock drywall will be exposed to the elements for an undetermined amount of time.
Most pre-rock drywall is glass mat as opposed to standard paper-faced drywall paneling.
They tend to be warrantied for up to 12 months of weather exposure, barring extreme weather events that can cause a cascade of damage. 
And not only choosing the correct drywall product for pre-rock is important, but submitting the product data and submittals for architect approval before ordering any material is vital.
Gold Bond's eXP Interior Extreme Gypsum Panels are an excellent choice in all interior applications where mold and moisture are a concern.
They feature a 12-month warranty for typical weather conditions and are suitable for pre-rock applications, able to be affixed to wood or metal studs. 
The eXP Interior Extreme Gypsum Panel has the highest mold resistance and water-resistant rating per ATSM D3273 and comes in ½" and ⅝" Type X or Type C for specific fire-rated designs.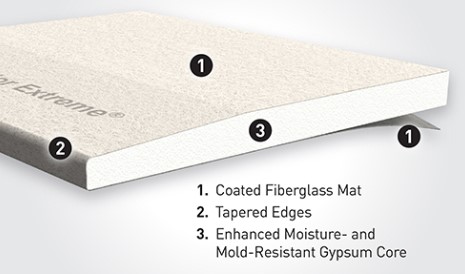 Also ASTM D3273 compliant, the DensArmor Plus Interior Drywall features fiberglass mats instead of paper-facings, making them ideal for high humidity environments and commercial constructions.
On top of the standard 12-month warranty for typical weather exposure in pre-rock conditions, the reinforced design of this product makes it ideal for interior areas that see high amounts of abuse, such as dorms and hospital walkways.
While the DensArmor Plus doesn't need to be used exclusively in those commercial environments, the product is also fire-rated and noncombustible per ASTM E136 and BS EN 13501-1.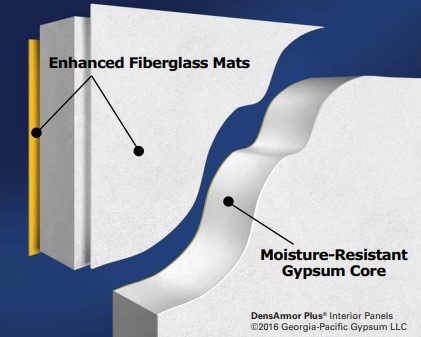 Pabco Gypsum's Glass Interior Drywall has an impressive list of qualifications for pre-rock drywall conditions.
The fiberglass-reinforced core provides the highest moisture and mold resistance rating. The glass mat protects against moisture and mold in any moisture-prevalent interior environment.
The panels have a ⅝" Type X fire-resistant model to match code requirements as necessary.
On top of all that, the Pabco Glass Interior Drywall claims to install and finish with joint compound as easily as standard, paper-faced gypsum.
This product seems ideal for commercial or residential top-down construction.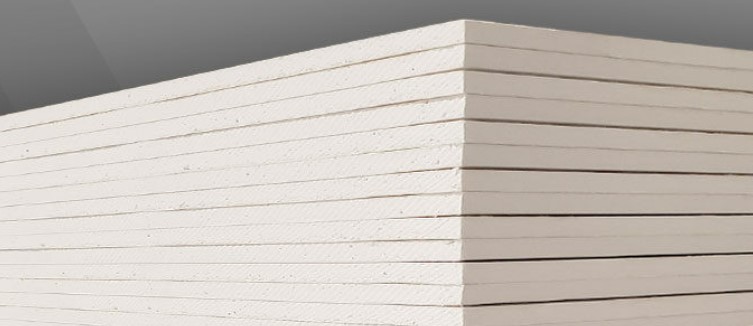 CertainTeed's GlasRoc Interior Drywall Panels claim all the benefits needed in a pre-rock drywall application: mold-resistant, moisture-resistant, fiberglass-reinforced, and fire-rated.
GlasRoc Interior Drywall Panels stand out due to their innovative face panel with tapered edges that give it a superior finish, perfect for indoor decoration.
These panels are also approved for use in exterior soffits, making them among the most versatile pre-rock drywall panel products listed.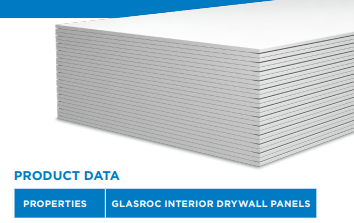 USG Glass Mat Mold Tough Interior Drywall has got to be as close to the bar as the ideal pre-rock drywall.
USG, who makes Sheetrock Brand gypsum panels, created the Glass Mat Mold Tough Interior Drywall to be especially suitable for pre-rock conditions, even warrantied for up to 3 years against manufacturing defects.
The GREENGUARD Gold-certified product qualifies as a low VOC emitting material and comes in ½" and ⅝" variants to fit any commercial or residential rating requirements.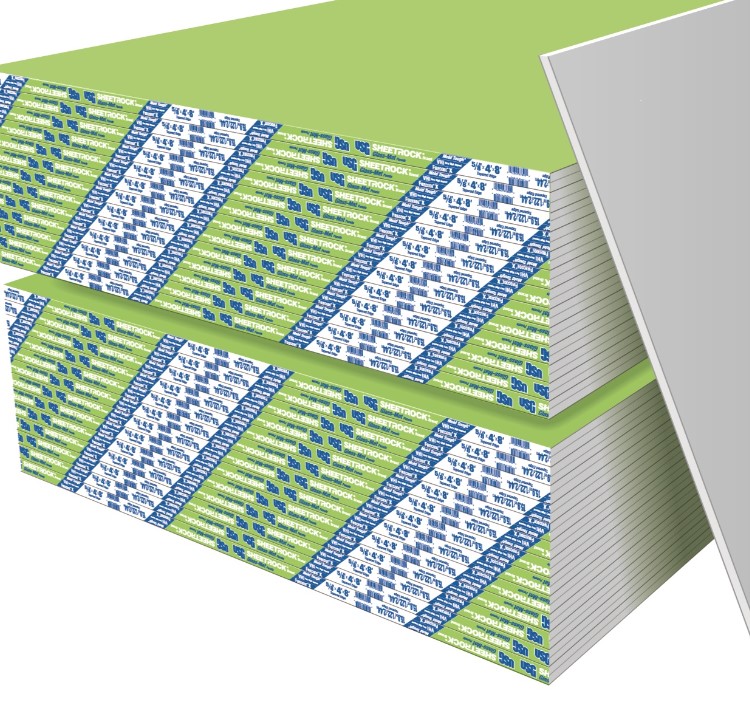 Georgia Pacific ToughRock Mold-Guard Drywall is a moisture and mold-resistant product that's a good example of a product to choose wisely.
ToughRock Mold-Guard Drywall is manufactured to specifically meet ASTM D3273's standards for mold resistance in interior coatings of an environmental chamber, making this product an excellent choice for high-humidity areas like showers, kitchens, and laundry rooms.
However, Georgia Pacific doesn't recommend this moisture-resistant panel for pre-rock conditions. They instead recommend another of their products: the DensArmor Plus Interior Drywall.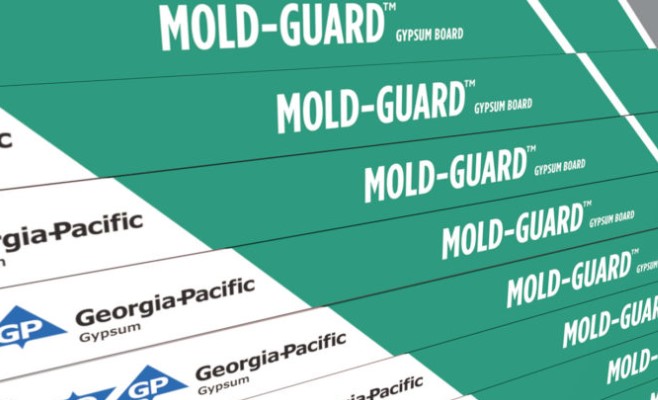 ---
Things to Look Out for When Pre-Rocking Drywall
When pre-rocking drywall, you have to look out for moisture and mold.
Although the above products may be certified for exposure to the elements, moisture damage and mold growth can still occur and cause problems much further down the road of a building's lifespan.
Be watchful of excess moisture around window and door openings in exterior walls. Another concern is water pooling in the interior wall metal framing tracks.
Moisture pooling combined with dirt or dust from being exposed to the elements can create an ideal mold environment. 
While fiberglass-reinforced drywall is specially made to withstand the elements in pre-rock conditions, other building materials might not be.
Screws and fasteners for an interior application and water-absorbent building materials like wood and insulation may not be rated for exposure to high amounts of moisture.
Watch out for excess water absorption or rusting in materials made for indoor use. 
---
References –
ASTM C840-20 – Standard Specification for Application and Finishing of Gypsum Board